LIEBESNACHT: 12TH GERGIEV FESTIVAL 2007
Orchestra(s): Rotterdam Philharmonic Orchestra / World Orchestra for Peace
Featured Artist: Bill Viola
Conductor(s): Valery Gergiev
Date(s): 5 to 15 September 2007
The theme of the Gergiev Festival's twelfth edition is Liebesnacht. From 5 to 15 September, 2007, the eleven-day festival presents symphonic music, chamber music, films, children's performances, a masterclass and a late-night programme. At the heart of the festival are three performances of Wagner's opera Tristan und Isolde, in a production featuring video art by Bill Viola. 'It could well be a very long time before something this great comes our way again,' was the enthusiastic response in the Los Angeles Times. Following its success in Los Angeles, Paris and New York, the Gergiev Festival is bringing this pioneering production to the Netherlands.
Celebrating Valery Gergiev's 20-year association with the Netherlands Twenty years after Valery Gergiev made his Dutch debut, this twelfth edition of the Gergiev Festival highlights his greatest passions: opera, symphonic music and the coaching of young talent. Maestro Gergiev will coach three young conductors in a masterclass. He will conduct three symphonic concerts: two with the Rotterdam Philharmonic Orchestra and one with the celebrated World Orchestra for Peace, which is performing in the Netherlands for the first time. Gergiev also conducts Wagner's Tristan und Isolde in a production with video art by Bill Viola.
BILL VIOLA'S TRISTAN UND ISOLDE: 'DAZED DOLL'
Video artist Bill Viola created projections for a production of Tristan und Isolde that was to be staged exclusively in Los Angeles, Paris and New York. The result was stunning. 'I saw the last performance of the Paris run and came away in something like the state of dazed bliss that Baudelaire described,' was the awe-inspired response of The New Yorker's music critic. Valery Gergiev, conductor of that Paris staging, was also profoundly impressed by Viola's imagery.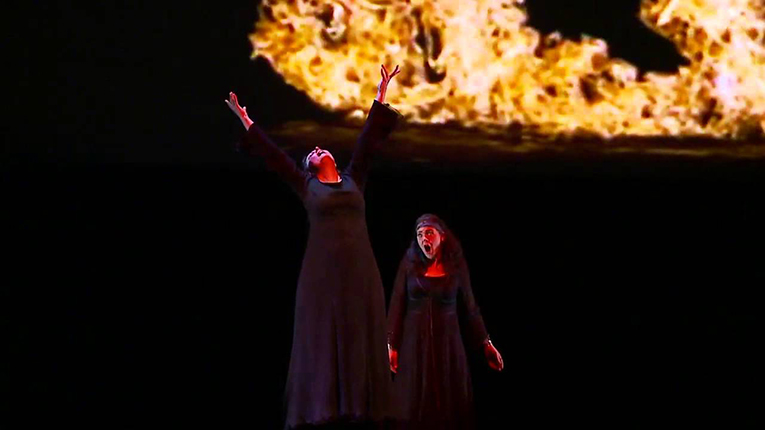 It was swiftly decided that this pioneering production should not only be seen in Los Angeles, Paris and New York, but that it would also be brought to Rotterdam for three special performances during the Gergiev Festival.
World Orchestra for Peace: in the Netherlands for the first time
Music transcends boundaries. That was why the World Orchestra for Peace, which brings together the finest musicians from ensembles around the world, was founded in 1995, marking the 50th anniversary of the United Nations. Performances by this unique orchestra are rare: the musicians only come together for very special occasions. On Saturday 8 September, during the 2007 Gergiev Festival, the World Orchestra for Peace will perform in the Netherlands for the very first time. The programme includes music by Berlioz and Prokofiev that explores the theme of Romeo and Juliet -- a tale of love that transcends boundaries.
A festival programme at eleven venues
The festival takes place at eleven different venues. The hub of activities is 'de Doelen' concert hall complex, where the opera, the symphonic concerts, the masterclass, the children's performances and the chamber music recitals (with stars such as Leonidas Kavakos and Ralph van Raat) is being presented. A festival with the theme Liebesnacht would not be complete without a late-night programme. In Carte Noire, five musical heavyweights join with boundary-defying ensembles (from Ramsey Nasr, poet, to the ZAPP String Quartet), enjoying a totally free hand as they seize the nocturnal moment in a one-off late-night concert.
Information and ticket sales via www.gergievfestival.nl
VENUES AND LOCATIONS:
de Doelen Schouwburgplein 50
www.dedoelen.nl
Arminius Museumpark 3
www.arminius.nu
Burgerzaal / Stadhuis Coolsingel 40
www.rotterdam.nl
Centrale Bibliotheek Hoogstraat 110
www.bibliotheek.rotterdam.nl
Cinerama Filmtheater Westblaak 18
www.cineramabios.nl
Goethe-Institut Rotterdam Westersingel 9
www.goethe.de
Kunsthal Museumpark / Westzeedijk 341
www.kunsthal.nl
Laurenskerk Grotekerkplein 15
www.laurenskerkrotterdam.nl
Maritiem Museum Leuvehaven 1
www.maritiemmuseum.nl
Off_Corso Kruiskade 22
www.off-corso.nl
Zaal Staal / Staal Rotterdam Beursplein 33
www.staalrotterdam.nl
HISTORY:
At his appointment as Music Director in 1995, Valery Gergiev and the Rotterdam Philharmonic Orchestra initiated an ambitious several-day musical event. One year later, they presented the Rotterdam Philharmonic Gergiev Festival 1996, which focussed on the composers Debussy, Prokofiev and Stravinsky. What started as a symphonic concert series with a theme, grew quickly into a large-scale music festival. Later editions with themes such as Ecstasy and Silencing (1997), Tragic Love (1998) and Falling Masks (1999) incorporated chamber music and opera into the festival programme.
The Gergiev Triptich of 2000 was a miniature edition, but the festival came back stronger than ever. In 2001, the year in which Rotterdam was Cultural Capital of Europe, the festival's multidisciplinary programme focused on Shostakovich and his War Symphonies. The 2002 festival launched a worldwide series of festivities on the occasion of Valery Gergiev's fiftieth birthday. Titled A Life in Music, the festival featured symphonies and concertos, chamber music, operas and oratorios by composers who have played a central role in Gergiev's musical live. Children's performances, films, theatrical monologues, a masterclass for conductors, and a pioneering performance by Valery Gergiev in dance club Now&Wow attracted many young festival visitors – a trend that was to continue in following editions.
In 2003, the Gergiev Festival put a 'difficult' composer in the limelight: Prokofiev. The extensive programme, however, drew a record number of visitors. The 2004 festival, with Tchaikovsky occupying centre stage, equalled this success. In 2005, the festival concentrated on composers such as Wagner and Strauss, the Icons of the Fin de Siècle. For the first time, the Russian repertoire played only a marginal role. The festival entered its second decade in 2006. The eleventh edition did not concentrate on a composer or a period, but on a theme that extends beyond music: Freedom.
The twelfth edition of the festival continues this trend with Liebesnacht. Wagner's Tristan und Isolde is the point of departure of an extensive programme that will be presented at eleven different venues in Rotterdam . The opera itself will be performed in the pioneering production with Bill Viola's video art. In addition there are symphonic concerts, chamber music concerts, children's performances, films and a night programme in which Love and the Night meet in ever different ways. The Gergiev Festival Rotterdam is a production of the Rotterdam Philharmonic Orchestra (www.rpho.nl).
ORGANISATION:
RECOMMENDATION COMMITTEE
Antony Burgmans Chairman of the Board of Directors of Unilever
Joop van Caldenborgh General Director Caldic
Kirill Gevorgian Ambassador to the Russian Federation
Annemarie Jorritsma-Lebbink Mayor of Almere
Frits Korthals Altes Minister of State
Prof. Dr. Luc van Leeuwen Former Member of the Upper Chamber
Dr. Henk van der Molen Former President of the Board of Governors of Erasmus University
Ivo Opstelten Mayor of Rotterdam
BOARD OF THE GERGIEV FESTIVAL ROTTERDAM
Sylvia Tóth Chair
Frans Tummers Treasurer/Secretary
Johan Moerman
Martijn Sanders
Jan Valkier
Neil Wallace
ORGANISATION GERGIEV FESTIVAL ROTTERDAM
Valery Gergiev Artistic Director
Jan Raes Managing Director
Michael Fine Senior Advisor Artistic Planning
Pieter Pryck Manager Artistic Affairs
Henriette Straub Artistic Coordinator
Maren Slieker Production Manager
Staff of the Rotterdam Philharmonic Orchestra
COLOFON WEBSITE
Website: Bob Bruyn
Text: Bart Diels
Translation: Geertje Hoekstra
Coordination: Daniël Rosenquist
Design: Hans van de Woerd BNO
Websites: www.gergievfestival.nl  /  www.rpho.nl