AN AMERICAN IN PRAGUE
By Rose Sher
The orange lights of the St. Vitus Cathedral and Prague Castle illuminated the Charles River, creating a majestic glow. The snow-lined banks of the river reflected Prague's night lights through ripples of purple, yellow, red and green. I peered through the foggy car window, and I couldn't help but imagine it was 1945. My body shivered with chills of excitement as I jumped out of the taxi and into my fairy tale weekend.
Don't skip Prague the next time you visit Europe. Where else can you dance in a night club under the Charles Bridge amongst Europe's hippest twenty-somethings, eat good Mexican food, drink Pilsner Urquell and tour a castle in the same day? Young, old or anywhere between, anyone can enjoy a Prague weekend.
Can't speak the language? Have no fear, a gracious Czech woman directed us to our museum in fluent Spanish with a big smile. Although it is smart to preface a question with: "Do you speak English?" If you have a choice between Amsterdam and Prague, choose Prague!
From its advanced 'Metro' system to its convenient and easy to understand trams, 'Praha' was a pleasure to navigate, and best of all it gave me easy access to the whole city. Not only did Prague strike me with its beauty, but it also gave me a thrill to travel beyond the former Iron Curtain. My grandparents lived there pre-communism and raved about its splendor and hospitality.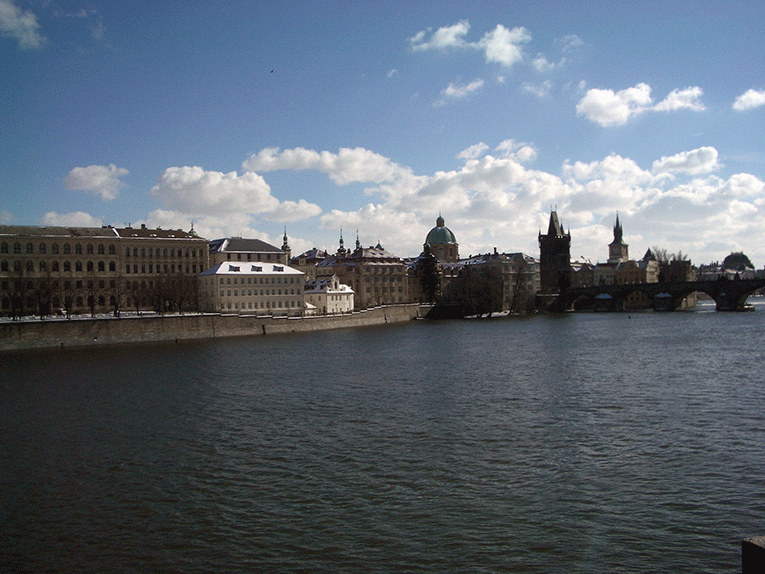 For those interested in the Czech Republic before 1989, the Communism Museum near St. Wenceslas Square offered heaps of digestible information about Communism, focusing on the history of the Czech Republic. Prague seemed so new it was hard to believe many of the people walking down the street grew up under Stalin's leadership. Where once stood a marble statue of Stalin now stands a memorial honouring two young men who lit themselves on fire to protest against communism, a tourists' favorite spot to take pictures and for people to show their gratitude with flowers.
Despite the snow, we spent nearly a whole day walking around the square, scouring the many 'Bohemia Crystal' stores for a bargain, enjoying the smell of roasting meat and listening to the hum of Czech, Spanish, Italian and French, among other languages. Prague's famous Hotel Europa offered magnificent photo opportunities with its intricate gilded Art Nouveau facade and picturesque balconies. We wandered along the outskirts of St. Wenceslas Square until we found the Mucha Museum.
Alphonse Mucha was the creator of the turn of the century's Art Nouveau style of artwork and jewelry. Though small, the first-ever Mucha museum showcases an extensive chronicle of Mucha's work, including his sketches, early photographs and his project featuring the Czech epic. The main exhibit highlighted his exquisite prints promoting French actress Sarah Bernhardt, and the 'Four Seasons' collection. The museum also presented an informative English-language video about Mucha's life and love for his country.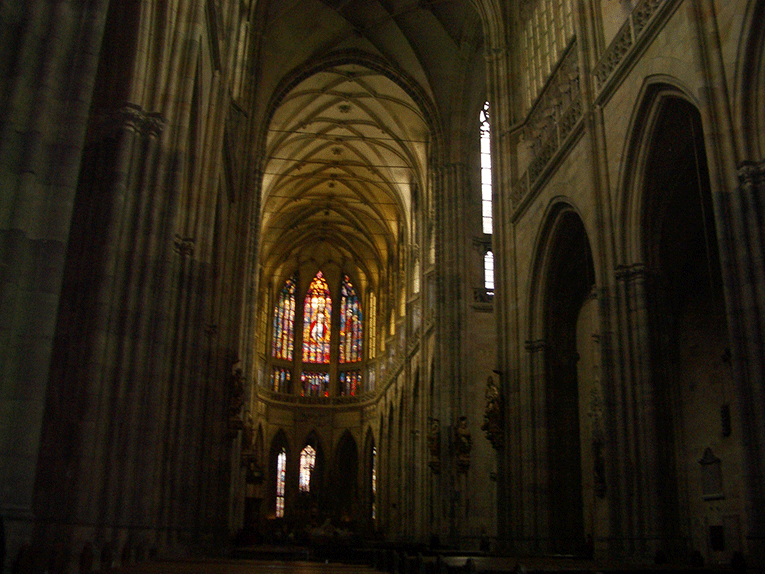 From its fortress at the edge of the Charles River, the breathtaking Praha Castle and St. Vitus Cathedral command the view of both sides of the city. Snow-covered steeples, formerly a figment of my imagination, came to life! Though freezing, St. Vitus' stunning interior included Mucha's stained glass windows and altars, each more ornate than the previous. Tours of the cathedral and castle exhibitions are offered in at least seven languages throughout the day.
Several historical fires burned out much of the castle, but there was an interesting archeological exhibit showing fossils and fashion from medieval times. Another main attraction next to the castle is renowned Czech writer Franz Kafka's house and the Barbie museum.
Lest I forget, we also embraced Prague's nightclubs, which don't start get crowded until after 1 a.m; we were slightly shocked by the provocative female dancers in RadostXF - Prague's poshest club - which played only techno and house music and was full of good-looking Europeans. Lavka, under the Charles Bridge, offered the most gorgeous technicolor night view of the cathedral, castle and entire city. It played a nice blend of American pop music and European-style music, but drew a much older crowd than RadostXF.
Even eating in Prague also proved a pleasant experience. We enjoyed quesadillas and margaritas at Banditos (near I.P. Pavlova station), and had an authentic Czech meal at Klub Architeku. I cannot forget to mention Bohemia Bagel; packed with Americans on Sunday morning. Service everywhere was offered with a smile, most restaurants accepted credit cards and ATM machines were on every corner. Compared to other Europe destinations, Prague is a sightseers' dream: fun, beautiful, easy, cheap and friendly.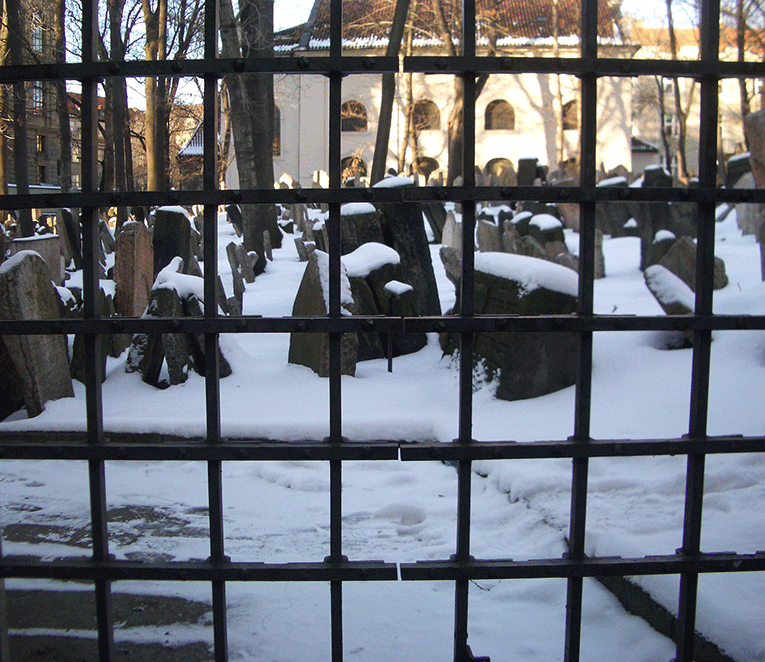 My only complaint is my disappointment with the Jewish Quarter. Most guidebooks I read about Prague recommended it as a 'must see'. I would say it is a 'must see' tourist trap. The Synagogues are no longer authentic, and the area was commercialised. The best part of our day in the Jewish Quarter was the homemade hot chocolate we drank at an Italian chocolate shop.
Prague was always a buzz word to me: I would hear, "Go to Prague you will love it…" but I never thought I would actually go. My weekend exceeded my expectations, and I, too, will join in the 'Prague Choir'.
 
Photos:
1. Inside St. Vitus Cathedral, @ Rose Sher
2. View of Prague from Castle, @ Rose Sher
3. View from the bridge, @ Rose Sher
3. Cemetery in the Jewish Quarter, @ Rose Sher