CAMDEN MARKET: JAZZ WITHOUT THE POETRY, BUT STILL JAZZ
By ISHMAEL ANNOBIL
The lean aristocratic man in period clothes and his equally lanky German shepherd dog know what they are doing – he is the visitor from Arthurian legend, and the dog walks in front to guard him against modernism. But they can't really upstage the ultimate kaleidoscope – Camden Town.
Camden High Street holds the only keys to sixties mania, strewn as it is by post-modern curiosity shops whose farcical, hyperbolic signs and insignias are worthy of a Dali study. But nothing beats Camden Market proper for lasting impressions. The retro trail leads to it, though it nestles just beyond the canal, at Camden Lock – fulcrum of the ever-evolving cultural experiment. It's functioning watergate and flotilla of canal boats can hold one spellbound for hours.
The sun seems to stand still at Camden Market, maybe because it favours a sunny dateline for most of its wares. Except, its abundant food fare is mainly Far Eastern, Chinese, Japanese and Taiwanese, and some Indian and North African – What else?
T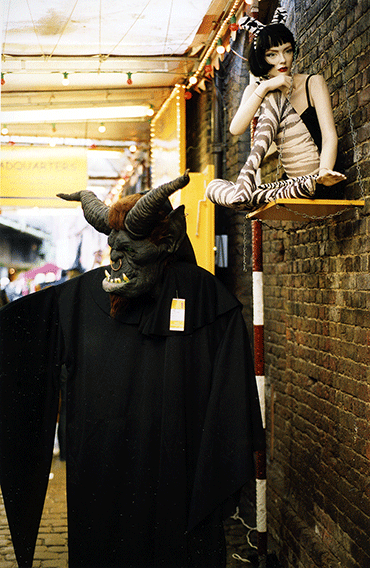 he market may be split into two loose sections; the two-floor indoor arena with its more stylised packaging and exhilarating, vaulted ceiling, and the cobble-stoned alfresco area which winds round the sides and back of the former then breaks into the courtyard of the ancient stables. The indoor arena houses in its main hall and lock-up units the best in exotica, curios, fine art prints, handmade ornaments, rare music, books, and all that matters to aficionados of the modern hip. This parti-colour canvas is even more mind-blowing if viewed from the top floor balcony (or gallery). It is also an exciting rain refuge, though you will have bought the place by the time the rain peters away.
The stables area for its part is a web of old warehouses, arches and vestibules filled with secondhand clothing and wares from pre-WWII to the 60s, a leit motif of 'ethic goods', a soothing admixture of funk (mainly funk), a cacophony of amateur African drumming, and a sweet, dank smell. Out in the open are tightly arranged food stalls manned by chatty healthy looking Far-Easterners, who tease you with alluring bits of food on ladles. Their subtle alacrity suffuses trade with its charming nasal timbre, and their smiles are imprisoning.
The food is cheap (from £2.50) and glorious in taste, though choosing what to eat is like solving a jigsaw puzzle, so you end up piling quite a precipitous combination on a paper plate. Tally past 5pm, and you will harvest the same heap for £1.50.
Here and there, you are faced with the increasing 'spiritualisation' of the First World; mini temples and stalls of Asiatic consciousness punctuate the stalls, and joss sticks of varying piquancy stroke your chakras, aided by the sacramental phantasmagoria and talismans. But there are also the darkened hubs of Goth that strive to assert awe with skulls, orbs, glowing eyeballs, chains and spikes, and ripped 'fashionalia'. And they, too, have competition from the occasional palm and tarot reader hunched earnestly over one astral divination or the other. Vortex.
The architecture of this dream bazaar reminds one instantly of Oliver, the musical, what with the elevated railway line running along its back like a borderline between worlds; ours being the liberated one. The old warehouses recycle themselves almost weekly, playing host to this and that concept or process, till something resembling permanence finally emerges. Case in point is the market's Avant Garde gallery, which towers above proceedings like a watermill. It is approachable by stone steps, which sometimes doubles as a sculpture trail.
The evolution of this part of the market is so swift that each photograph taken here is a historical document never to be repeated again. For sheer theatrical refrain, Camden Market offers its best cameo parts to it numerous mannequins. The whole thing feels like animism, given their near-sentient manners and gestures. They may peer at you from unique angles, or just hold fort like totems, but they will always shock you with their acute dress sense, surrealism and humour. The whole thing is a great art form – let's just call it mannequinism (or manikinism).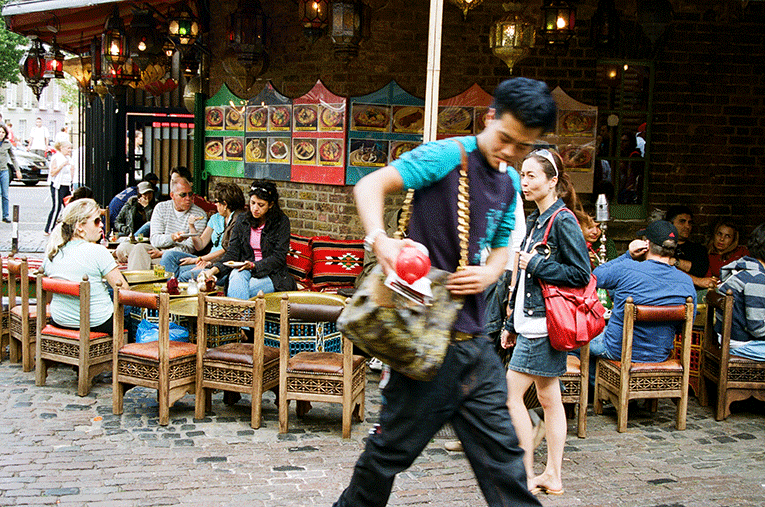 What started as a weekend market is slowly becoming a daily one, maybe because the punters keep hanging around longer and longer, wishing to fall in love over and over gain. It may also be because Camden Market is the only comprehensive window onto the worlds beyond London. It is our cultural Crystal Palace expo.
But, like all hip places, Camden has an underbelly. It comes in all forms, except open sexual depravity. Brixton may have been the first to host the relaxation of marijuana laws, but Camden's users had long presumed it relaxed. The accoutrements for marijuana consumption, and those for less sedate narcotics, are sold openly everywhere, rubbing shoulders with grandly decorated Arab hookahs, but the actual poisons are traded only by sleight of hand by fiery eyed dudes along the pavements and the sidewalks of the Victorian iron bridge.
Watching this adroit underworld at work can be a pastime in its own right, though you may attract a sickening proposition. Locals rail against the pushers, and everyone seems to believe they come from outside Camden. The town's local newspaper, New Camden Journal, is at the forefront of the campaign to rid the place of them, and they are winning.
Camden also has more than its fair share of homeless people. News is, Camden Council's housing list is over subscribed, and so these hapless folk huddle in corners along the high street, facing their ignominy in silence. The beggars overwhelm them with their earnestness, taking over their identity, accosting ATM users like pussycats, diminishing their plights.
The last few years have been quite troubling for the town. One of its notables, Victorian artist Walter Sickert, has been resurrected for scrutiny by modern Jack-the-Ripper investigators, and in the winter of 2002, Anthony Hardy (The Camden Ripper) invoked the ancient spectre, as if by copycat appointment.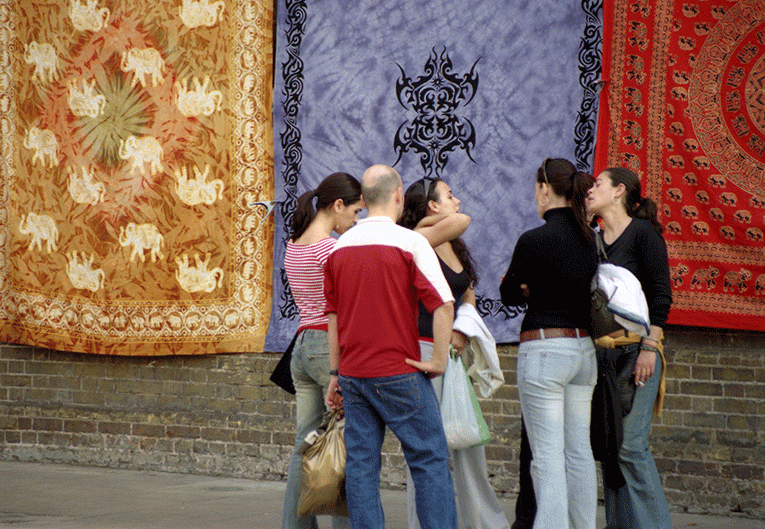 But Camden cannot really be turned into a typical inner city milieu. It is just too stylish. The Jazz Cafe, in Parkway, is the most up-to-date joint this side of London's West End; the newly refurbished KOKO discotheque draws in the most passionate youth revelers in London; and Parkway is also probably the best 200-yard watering hole in the world.
The culinary delights of Camden Market reach their apotheosis in Parkway, underpinned by the coolest selection of pubs in Camden, not to mention the legendary Fresh & Wild, an organic foods and remedies superstore and café. And Proud Gallery's Camden branch is the ultimate pop photography grotto.
If Camden's fervour has any flaw at all, it is that the Highways Authority does not budge an inch for the market, causing a chaotic melee between humans and cars, and the fashion shops are largely the preserve of the trendy and iconoclastic. The styles range from the over-elaborate to the bizarre, though the patient conservative shopper can still pull out a classic gem from under the high heeled men's boots and punk regalia. Nevertheless, Camden is conceivably the T-shirts capital of the world. It also sells enough militaria to kit out an entire rogue junta.
But modern and funky though Camden is, it lacks poetry (spoken poetry, that is). The last poetry shop/venue was closed down a while ago. Word is, the borough council's exorbitant business rates were crucial in it demise. There are no poetry clubs of note anymore, although some of Britain's best writers live within a five-mile radius of the town centre.
However, as if to make up for the dearth, the town's graffiti art bears exciting lucidity, radicalism and ingenuity, referencing the enchanted aura of the market, echoing the 'unshorn' rhythms of the townsfolk – a living poesy, despite the aloof glances of that Arthurian stroller and his guard dog.
 
Date Written:  April 2005
Image Credits: All photos by Ishmael Annobil