ALLEGRI DIVERSI, GROSSE FUGE - THE CENTRE AND ITS OPPOSITE
Lyceum Theatre
Tudor Square, Sheffield
Tuesday 25 May to Wednesday 26 May 2010
PRESS NIGHT: Tuesday 25 May 7.45pm
Birmingham Royal Ballet returns to Sheffield's Lyceum Theatre from Tuesday 25 May to Wednesday 26 May with their three critically acclaimed ballets. Set in the garden of an Italian Renaissance villa, Allegri diversi is a short piece by David Bintley and was originally choreographed for Sadler's Wells Royal Ballet (now Birmingham Royal Ballet) in 1987. The effortless elegance of the dance gives life to Rossini's light and playful score.
Grosse Fuge is choreographed by Hans van Manen and sees delicate interplay between groups of men and women to the music of Ludwig van Beethoven. It opens with four men and four women dancing in separate groups, apparently disinterested in each other. As the music becomes more complex so does the dance. Finally they become four couples, dancing together in celebration.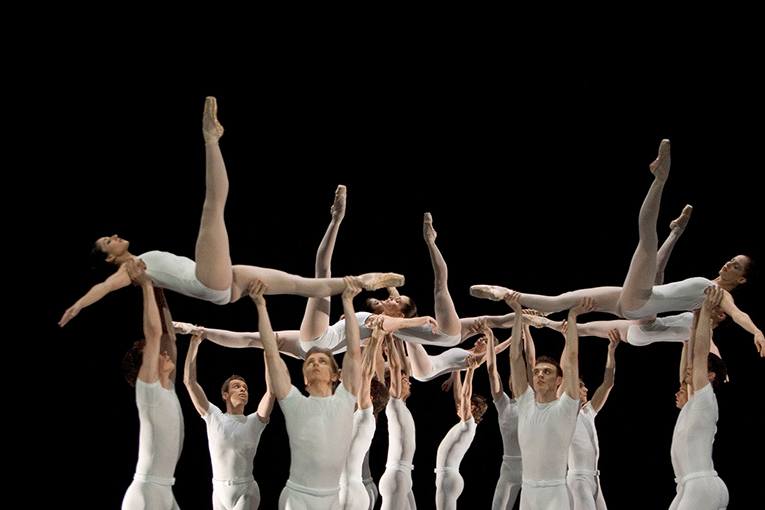 The Centre and its Opposite, a brand new work by Australian Dance Theatre's Artistic Director Garry Stewart, sees the dancers directly competing for the attention of the audience, fusing classical ballet with hard-edged contemporary dance to music by Huey Benjamin.
Now in its 20th anniversary year the company will divide into two with half of the company travelling to the southwest of the country and the remaining half travelling to the north and east. The split-tour initiative enables full-scale works with orchestral accompaniment to be presented in venues not normally associated with a company of this size, ensuring that audiences have access to the highest quality of dance performances available in the UK today.
Tuesday 25 May – Wednesday 26 May 2010
Evening Performance Times: Tuesday - Wednesday 7.45pm.
Afternoon Performance Times: Wednesday 2.00pm.
Ticket Prices £12.50 - £24.50 (Concessions Available)
Image:
1. Grosse Fuge, Kevin O'Hare, Joseph Cipolla, Wolfgang Stollwitzer, Andrew Murphy. Photograph :  Bill Cooper
2, Brouillards. Photograph :  Bill Cooper