CÉLINE CONDORELLI: BAU BAU
Pirelli HangarBicocca
Curator: Andrea Lissoni
Date: Till 10 May 2015
bau bau is Céline Condorelli's first solo exhibition in Italy, comprising about 30 works made between 2008 and 2014, as well as a selection of the artist's writings. Curated by Andrea Lissoni in the "Shed" space, the exhibition offers a selection of Condorelli's most significant works, which reveal her ability to activate relationships between art and architecture, space and socio-historical contexts. Nerofumo (2014), a new work created through an unprecedented collaboration with one of Pirelli's factories—the Technological Hub at Settimo Torinese (Turin)—explores how production processes influence human relationships and their surroundings. 
The exhibition is imagined as a context for co-existence—of objects, participants and public—through doing and thinking. Condorelli inhabits the industrial space of HangarBicocca with quasi-functional structures, and discreet alterations to the physical fabric of the gallery itself, which becomes subject to variations in time and light. 
Two areas are outlined by curtains—a recurring motif in the artist's work—into "day" and "night," light and darkness, white and black, in direct relation to two works on display in the exhibition: White Gold (2012), a piece unfolding from the artist's research into Egyptian cotton production, and the new work for HangarBicocca, which title references the use of carbon black Nerofumo (Carbon Black) (2014), a fundamental binding agent in tyre manufacturing.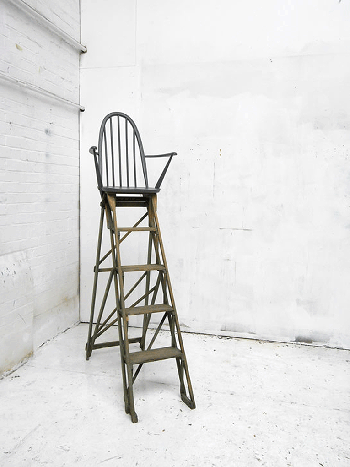 The piece, made of tyres altered with Pirelli factory workers and their tracks, functions both as a register of that social and material journey and as a way of navigating the exhibition. At the centre of the exhibition, Support Structure, Red (2012–2014) supports these two works by housing the artist's research into cotton and rubber production, in this way acting as an index, or atlas, structuring the exhibition as a whole. 
"bau bau" is Italian for "woof woof," while "Bau" means "building" in German, and also "in construction." The title of the exhibition, therefore, is both the sound of a barking dog and a reference to ideas of ongoing processes that are underlying all of Condorelli's practice. bau bau is also the title of the 2014 exhibition at GfZK Leipzig (Germany), which takes the form of a functioning café, whose sign is flashing on the outer walls of HangarBicocca. 
Condorelli's work is concerned with how all human action takes place amidst countless structures of support, or more specifically what she has termed "support structures"—whether emotional, legal or physical. These structures are mostly taken for granted, and therefore often seem invisible. Her comprehensive approach draws from Italian traditions of art and design, such as that of Bruno Munari, as well as conceptual art and the relational art of the 1990s. 
Céline Condorelli (b. 1974) lives and works between London and Milan. Her work has been exhibited in many art institutions including Artists Space in New York (2009), SALT in Istanbul (2012), Project Arts Centre in Dublin and Manifesta 8 (2010). She is one of the founding directors of the artist-run space Eastside Projects, Birmingham, UK (since 2008), and in 2009 she wrote and edited the book Support Structures, that will be republished on the occasion of the exhibition. 
On Thursday March 19, the pianist John Tilbury will play within the exhibition, using the works as instruments. The event is one of a series of live initiatives especially conceived for the exhibition programme at HangarBicocca. 
Céline Condorelli's bau bau is part of a series of exhibitions run by Vicente Todolí together with Andrea Lissoni. The exhibition is being shown in conjunction with the solo exhibition of Joan Jonas Light Time Tales, curated by Andrea Lissoni, on display until 1 February 2015. The 2015 HangarBicocca calendar of events will continue with exhibitions by Juan Muñoz (April 2015), Damián Ortega (June 2015) and Philippe Parreno (October 2015).
HangarBicocca
Via Chiese 2
Milan
T +39 02 6611 1573
www.hangarbicocca.org
Image Credits:
1. Céline Condorelli, baubau, 2014 Sign, Museum of Contemporary Art Leipzig, (GfZK), Leipzig, Germany.
Photo: Lars Bergmann Courtesy the artist
2. Céline Condorelli, Study for Additionals (Structure for Reading), 2012; Courtesy the artist