COPENHAGEN PHOTO FESTIVAL - DAY AND NIGHT
This May the Copenhagen Photo Festival fills the streets and galleries of the city for the first time. Day & Night is Copenhagen Photo Festivals main exhibition opening May 12th in the public space of Copenhagen inner city. The exhibition takes place 24/7 – day and night – and will takes over banners, projections and billboards, from the town hall square and down along the central walking street Strøget, occupying the main squares of the city center spreading on to the central trafficking, cultural and commercial posts in the City.
All over town
When the Copenhagen Photo Festival hits Copenhagen this May it is the wish and ambition to show Copenhageners and the rest of the world some of the international level of engagement and photography talent to be found both in Denmark and internationally. With an ambitious programme the festival offers the opportunity to become more aware of the photographic expression which we meet at all levels in daily life and space - public and private - and presents a unique opportunity to zoom in closely on the state of photography in 2010.
Day & Night
While Day takes place in broad daylight amongst shoppers and commuters Night comes alive at dusk as projections on storefront windows, buildings and screens trough out the city. Each exhibition has its own form of sensibility and tone but together they will form two sides of hidden layers of the everyday – the part taking place in daylight and the part taking place at night, in the shadowland and in hiding.
Day is unfolded in a field between realism and fiction. The exhibition presents photographers portraying, subcultures, ordinary worlds and strange scenarios of contemporary society. On the surface they appear as decodable scenes and figures as we see them. However as we go deeper into the photos the recognizable mixes with the magical and poetic as well as mental layers in images of seemingly parallel realities. The motives seem more haunted than homely, mores surreal than real and more poetic than logical. It's the hidden inner layers we all perceive our lives and reality through that is pulled to the front in the images in Day.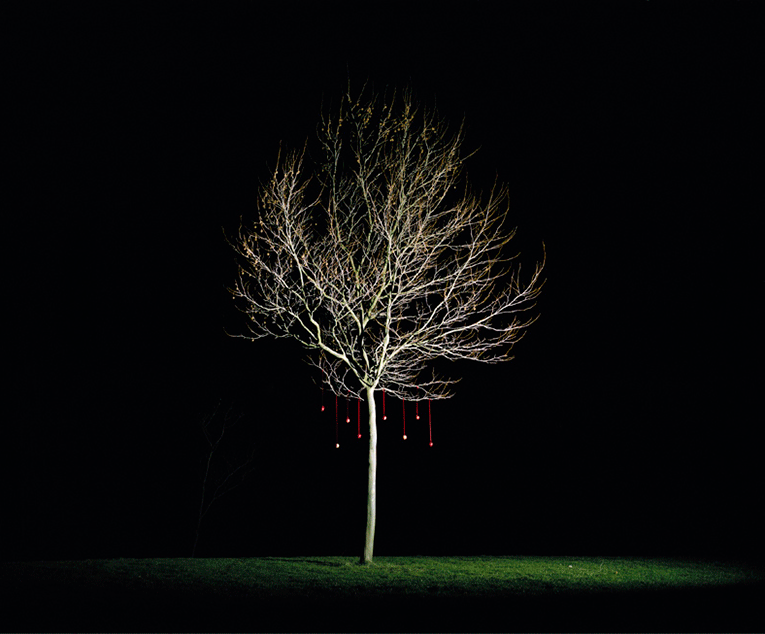 The night with its layers of hedonism, secrets, poetry and loneliness is the theme of Night. Sleepless, festive, voyeuristic, boring or dangerous. The photographs of Night wishes to depict many different atmospheres which the city entails at nighttime. It is a portrait made by those who sleep less, an invitation to experience nighttime and art in a new constellation. Day is curated by Charlotte Sprogøe and Night by Jesper Elg, director of V1 gallery
Contributing artists in the main exhibition Day & Night:
Walead Beshty (b. 1976 in England) Tim Davis (b. 1969 in Malawi), Peter Funch (b.1974 in Denmark), Anne Hardy (b. 1970 in England), Todd Hido (b. 1968 in USA), Jacob Holdt (b. 1947 in Denmark), Nicolai Howalt (b. 1970 in Denmark), Mark Hunter (b. 1986 in USA), Hanna Liden (b. 1976 in Sweden), Laurel Nakadate (b. 1975 in Texas, USA), Jason Nocito (b. 1974 in USA), Dash Snow (b. 1981 d. 2009 in USA), Peter Sutherlands (b. 1976 in USA). Klaus Thymann (b. 1974 in Denmark), Shizuka Yokomizo (b. 1966 in Japan). Kohei Yoshiyuki (b. 1946 in Japan).
On May 14th the Copenhagen Photo Festival is presenting a public conference at The Danish Royal Academy of Fine Art on 'Contemporary Art Photography Now', with a wide range of some of the international artists involved in Day & Night.
About the Copenhagen Photo Festival
Founding directors of CPF are Rasmus Ranum and Julie Klitbo, the owners of the photo agencies Sumo and BLINK who are working with Danish photographers in Denmark and abroad. The Copenhagen Photo Festival aims to become a platform on which to explore photography through, among others, newly produced works, theoretical debate and practical activities.
The Festival involves most of central Copenhagen with more than 30 exhibitions at various venues such as the Danish National Gallery, National Gallery Museum of Photography, Galleri Bo Bjerggaard, V1 Gallery, Galerie Mikael Andersen, Peter Lav Gallery and Martin Asbæk Gallery where guests can experience the pick of Danish and international photographic art.
Among others Eve Sussman (UK), Peter Fuch (DK), Mads Nissen (DK), Astrid Kruse (DK), Olafur Eliasson (DK/ISL), Michael Elmgreen & Ingar Dragset (DK/NO), Mike Kelley (USA), Joachim Koester (DK), Man Ray (USA), Jonathan Meese (DE), Albert Mertz (DK), Hermann Nitsch (AUS), Sigmar Polke (DE) etc.
For further information go to http://www.copenhagenphotofestival.com.
Image: Astrid Kruse Jensen, She was looking for herself, 2008