DEREK MAINELLA : INFINITY POISON 
Castor Projects, London
8 — 30 January 2016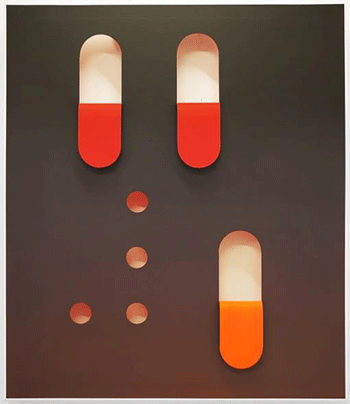 Infinity Poison, a solo exhibition by Derek Mainella,is the inaugural show of Castor Projects, a new fine art space in New Cross. It also marks Mainella's first solo exhibition in London, where he currently resides, and his second solo show in the UK. The exhibition forms a gesamtkunstwerk,in which Mainella's usual painting practice takes a more passive role as co-spectator in an environment thataddresses issues of consumption, food production and waste through superficial mimesis.
On entering the space our gaze is drawn to a video of a bonfire party, shot by the artist during a visit to his home city ofToronto in the summer of 2014, which provides the only true physical light in the exhibition. The video captures the frivolous nature of youthculture, whilst simultaneously revealing their capacity for critique and invention.
The paintings lit by the artificial glow from this single channel become an extension of those figures sat by the fire in the video, in doing so they expand the virtual loop of the monitor to that of the physical space of the gallery. The viewer becomes complicit in the actions of the video, torn between a shared moment over the flickering flames and that of wider environmental repercussions.
Mainella's paintings composed primarily in digital space, present a futuristic visage of varying sentiment depending on the viewer. Each painting a variant of itself, engaged with historical modernism with due reverence, but also as a possible novelty Through Mainella's pictures, our connection to the simplified form of the face usurps the need for outstretched art rhetoric, the usefulness of the paintings here recedes from that of the fetishized art object to a mere portion of the environment.
Castor Projects is a London based gallery working with emerging and interdisciplinary artists, with a particular focus on enabling ambitious and site responsive exhibitions.
Castor Projects, 
Basement, 
306 New Cross Road, 
London, 
SE14 6AF
020 7097 8745 
info@castorprojects.co.uk 
www.castorprojects.co.uk