FRIEZE LONDON & FRIEZE MASTERS 2017
October 5–8 2017
The Regent's Park, London
Frieze London and Frieze Masters returns to The Regent's Park, from October 5 through 8.More than 160 leading galleries from 31 countries will showcase ambitious presentations by international emerging and established artists, enhanced by a curated non-profit programme of artist commissions, films and talks.
New section: Sex Work: Feminist Art & Radical Politics
Curated by Alison M. Gingeras, Sex Work: Feminist Art & Radical Politics features nine solo presentations of women artists working at the extreme edges of feminist practice during the 1970s and '80s, all sharing a focus on explicit sexual iconography combined with radical political agency. Including seminal works by Judith Bernstein (The Box, LA and Karma International, Zurich), Mary Beth Edelson (David Lewis, New York) and Dorothy Iannone (Air de Paris, Paris), among others.
Focus: emerging talents
Bringing together 34 galleries from Cairo to Berlin, Focus features galleries aged 12 years or younger and is advised for the first time by Ruba Katrib (SculptureCenter, New York; MoMA PS1 from October) in collaboration with returning curator Fabian Schoeneich (Portikus, Frankfurt). Highlights include Anna Uddenberg with Kraupa-Tuskany Zeidler (Berlin); Lloyd Corporation with Carlos/Ishikawa (London); and The Harrisons with Various Small Fires (VSF) (Los Angeles)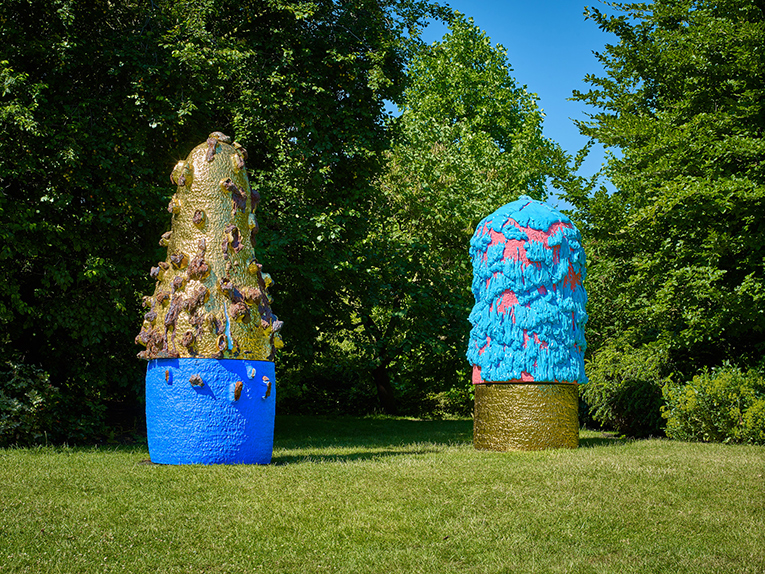 Live: performance and participation
The fair's section for performance and participation is also advised by Ruba Katrib (SculptureCenter, New York; MoMA PS1 from October) and Fabian Schoeneich (Portikus, Frankfurt) and will feature four ambitious artworks by international artists, including Neha Choksi (Project88, Mumbai) and Mark Fell (Southfirst, New York).
Frieze Talks
Curated for the first time by Ralph Rugoff (Hayward Gallery, London), Frieze Talks will explore how—in an age of "alternative facts"—art's capacity to beguile, disorientate and disrupt conventional notions of "the real" can take on new meanings. Leading artists, musicians and cultural commentators will explore these themes, including: a performance-conversation between artists Dominique Gonzalez-Foerster and Philipe Parreno (Friday, October 6) and a session of "sung lectures" featuring artist Nástio Mosquito and Mx Justin Vivian Bond.
Frieze Projects & Frieze Artist Award
Supported by the LUMA Foundation and curated by Raphael Gygax (Migros Museum für Gegenwartskunst, Zurich), the non-profit programme of artist commissions will feature Marc Bauer, Donna Kukama, MOON Kyungwon & JEON Joonho, Lucy + Jorge Orta, SPIT! (Carlos Motta, John Arthur Peetz, Carlos Maria Romero), Georgina Starr and Frieze Artist Award-winner Kiluanji Kia Henda.
Frieze Film
A series of new film commissions will be premiered at Frieze London and broadcast on national television. Alex Bag, Pauline Curnier Jardin, Gabríela Friðriksdóttir and Raphaela Vogel will create new works as part of Frieze Projects, the fair's celebrated non-profit programme curated by Raphael Gygax. Frieze Film is supported by Channel 4's Random Acts.
BMW Open Work
Curated by Attilia Fattori Franchini, BMW Open Work will launch at Frieze London 2017 with a new multi-platform commission by New York-based artist Olivia Erlanger.
Institutions at the Fair: Tate, Contemporary Art Society & Allied Editions
Building on Frieze's enduring relationship with collecting institutions, Frieze London will again partner with two acquisition funds for UK public collections, including the Frieze Tate Fund, supported by WME | IMG; and the second edition of the Contemporary Art Society's Collections Fund at Frieze, this year supporting the Towner Art Gallery (Eastbourne). Allied Editions also returns to the fair, raising vital funds for seven non-profit galleries across London and guest regional partner, Focal Point Gallery (Southend-on-Sea)
Reading Room
Returning for a third year, the Reading Room will create a space for visitors to discover a curated selection of the world's best arts publications, hosting an exciting schedule of events.
Restaurants
2017 sees the return of favourites including Petersham Nurseries, Gail's Artisan Bakery, Brunswick House, Yalumba, Pizza Pilgrims, Company Drinks with exciting new additions, Jason Atherton's Social Wine and Tapas, Moro and Ahi Poké. Hotel Café Royal is the main hotel partner for Frieze London 2017.
Frieze Masters
The sixth edition of Frieze Masters will showcase six thousand years of art history from 130 of the world's leading galleries, curated sections for discovery and Frieze Masters Talks.
Spotlight: Rare Presentations of 20th-Century Artists
Curated by Toby Kamps (Blaffer Art Museum, University of Houston), the celebrated Spotlight section continues to reveal extraordinary, under-recognized figures through 21 solo artist presentations —including Décio Noviello (Galeria Berenice Arvani, São Paulo), Maryn Varbanov (Bank, Shanghai) and Eleanor Antin (Richard Saltoun, London).
Collections with Sir Norman Rosenthal
Curated by Sir Norman Rosenthal, the celebrated Collections section continues to bring new types of work to the fair and showcase extraordinary artworks and objects spanning thousands of years. Highlights include Andean textiles specialists Paul Hughes Fine Art (London) and Israel Goldman Japanese Prints (London).
Frieze Masters Talks
Curated by Tim Marlow (Artistic Director, Royal Academy of Arts, London), Frieze Masters Talks provides a platform for leading artists, museum curators, writers and critics to discuss the history of art and its continuing significance in contemporary practice. Highlights include artists Lynda Benglis and Marina Abramović alongside curators Eike Schmidt (Uffizi Gallery, Florence) and Luke Syson (The Met, New York).
Restaurants
2017 sees the return of Frieze favourites Locanda Locatelli, Umu and GAIL's Artisan Bakery.
Frieze Sculpture
July 5 to October 8
Open throughout the summer for the first time, Frieze Sculpture—London's largest showcase of major outdoor art, selected by Clare Lilley (Yorkshire Sculpture Park)—features international galleries showing major 20th century and contemporary artists. Highlights include modern icons Magdalena Abakanowicz (Marlborough Fine Art, London), Rasheed Araeen (Grosvenor Gallery, London), Alicja Kwade (kamel mennour, Paris) and Urs Fischer (Gagosian), among many others. Download Art Fund's Frieze Sculpture Audio Tour App.
Frieze fairs are supported by global lead partner Deutsche Bank.
For further information and tickets visit www.frieze.com.
Photo:
1. Thomas J Price, Numen (Shifting Votive One, Two and Three) (2016), Hales London & New York | Frieze Sculpture 2017. Photo by Stephen White. Courtesy of Stephen White/Frieze.
2. Takuro Kuwata, Untitled and Untitled (both 2016), Alison Jacques Gallery / Salon 94 | Frieze Sculpture 2017. Photo by Stephen White. Courtesy of Stephen White/Frieze.