GABRIEL OROZCO : NATURAL MOTION
Kunsthaus Bregenz
Till 6 October 2013
Born in 1962 in Xalapa in the Mexican state of Veracruz, and living today in New York, Paris, and Mexico City, Gabriel Orozco is one of the best-known international artists of his generation. In Bregenz he will be showing for the most part new works that have been conceived specially for the exhibition.
Gabriel Orozco is that rare artist who can switch between classical, quasi-autonomous paintings or sculptures and transient, seemingly improvised installations, interventions, objects, and photographs. Enormously versatile in approach, he sometimes draws on atmospherically charged, found, or occasionally casual situations and objects, as well as the exact opposite: the production of precise and perfectly crafted objects. Hence, his works take up a position between analytic conceptual art and formally as well as sensually balanced artifacts.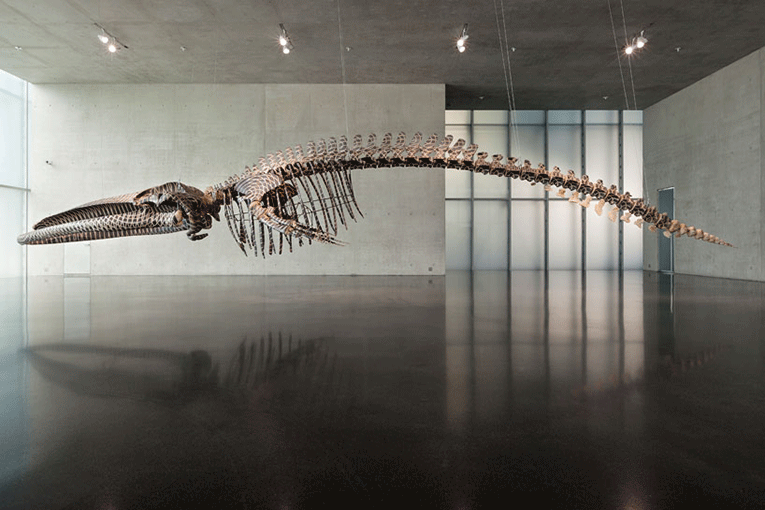 Orozco's pronounced sensibility for cultural and national or state attributions is seen in his incorporating antithetical elements into his practice of art. On the one hand, he selects motifs, techniques, and references, for instance, that are specifically Mexican or that are deeply rooted in Latin American cultural traditions; on the other, he employs artistic strategies that were developed by modernism. He insists on cultural distinctions, while at the same time developing works that call into question over-rigid, identity-imposing definitions. 
In addition to the predominantly new works, the Kunsthaus Bregenz is also presenting one of the artist's most striking installations. At its first presentation in London nearly seven years ago, his almost fifteen-meter-long synthetic resin reconstruction of the skeleton of a whale caused a sensation. The artist covered the artificial bones of the mammal with a complex geometrical pattern in graphite and thus set up a dialog between art and the whale's nature-bound, creaturely aura.
By including a number of his earlier works in his Bregenz exhibition, Orozco anchors his new works in his own history, allowing viewers to engage more deeply with his characteristic practice of spanning all genres and media. 
Following the show at the Kunsthaus Bregenz, Gabriel Orozco's exhibition will be on view at the 
Moderna Museet, Stockholm.
Kunsthaus Bregenz
Karl-Tizian-Platz
6900 Bregenz
Austria
Phone +43-5574-485 94-0
Fax +43-5574-485 94-408
www.kunsthaus-bregenz.at
E-mail: kub@kunsthaus-bregenz.at
Image Credits:
1.Gabriel Orozco, Untitled, 2011, Terracotta, 13.97 x 20.32 x 20.32 cm; Courtesy Marian Goodman Gallery, New York/Paris; Photo: Markus Tretter; © Gabriel Orozco
2. Gabriel Orozco, Dark Wave, 2006, Calcium carbonate and resin with graphite 304 x 392 x 1375 cm, Installation view groundfloor Kunsthaus Bregenz 2013, Lender Essl Museum Klosterneuburg/Vienna; Photo: Markus Tretter, © Gabriel Orozco and Kunsthaus Bregenz.