GREEK PAVILION AT THE VENICE BIENNALE
Maria Papadimitriou: Why Look at Animals? AGRIMIKÁ
Greek Pavilion, Giardini, Venice
Commissioner: Hellenic Ministry of Culture, Education and Religious Affairs
Curator: Gabi Scardi with Alexios Papazacharias
May 9–November 22, 2015
Why Look at Animals? AGRIMIKÁ is a shop transferred from the central Greek city of Volos, where it operates, to the Greek Pavilion. The shop sells animal hides and leather. Its sign says "AGRIMIKÁ": a Greek term that means local wild game. The everyday life of the shop is filled with convivial social contact.
But the relationship between humans and animals that is presented in this place sparks concerns ranging from ethics to politics, from history to economics Agrimiká are those animals that coexist with humans but they resist domestication. Whether understood in the role of prey or that of hunter, the human race has always found a symbolic correlation with which to define itself by way of these nearby but untamable "beasts." In fact, man constructed the idea of humanity in contrast to the nature of animals. Actually, the borderline between human and animal passes inside humans themselves, and is constantly mobile.
The reference to the wild animal evokes the forces humans struggle to govern. Desire, discomfort, and hostility for that which cannot be accepted, understood, assimilated, or tamed are projected onto the animal figure.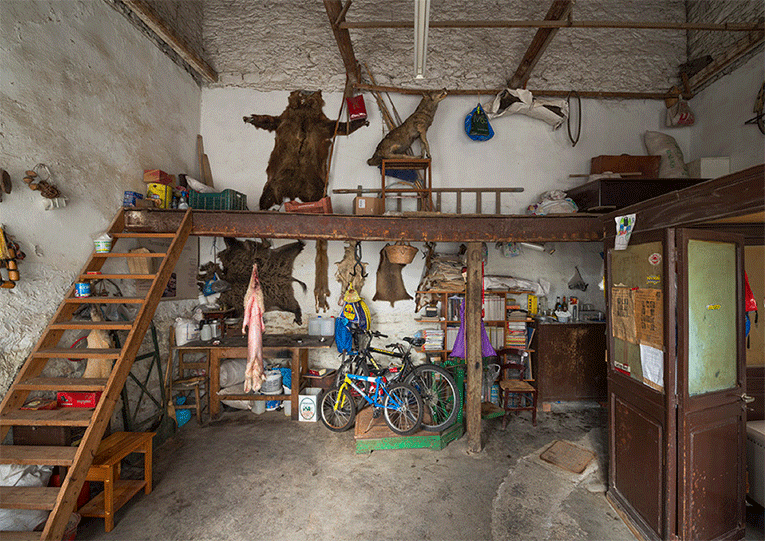 It is through this process that humans ratify the status of difference and legitimize moral disengagement, all the way to discrimination against the "other" that does not conform, does not align itself. The person who strays from the norm, the barbarian, the stranger, like the worst criminal are all unworthy individuals, figures that can be reduced to categories, divested, deprived of prerogatives, rights, faculties. We can expropriate their assets, push them to the margins; we can strip them of rank, humanity, and individuality. Since they are not part of the social body, they forfeit their rights. They become exploitable. At this point, they can be inserted in the economic system as objects to be used and consumed, as business, only to be expelled at will as refuse, as waste.
Remains from the previous editions of the Biennale occupy the rest of the space of the Pavilion. At the very time that Greece and much of the world are most exposed to crisis, the ruined scene of the Pavilion expresses a passage of time and a phase of regression. The archive research for AGRIMIKÁ is a result of collaboration with students of Thessaly University, Department of Architecture.
More info:
greeceatvenice.culture.gr
www.agrimika.com
Note: All exhibition material comes from findings, without any abuse on animals.
Image Credits:
1. View of Maria Papadimitriou, AGRIMIKA, 2015. Courtesy T.A.M.A Temporary Autonomous Museum for All and the artist.
2. View of Maria Papadimitriou, AGRIMIKA, 2015. Courtesy T.A.M.A Temporary Autonomous Museum for All and the artist.