IMOGEN CUNNINGHAM
FUNDACIÓN MAPFRE

Till 20 January 2013
Curator: Celina Lunsford, photography consultant to the Fotografie Forum International, Frankfurt, and an independent curator.
Production: Fundación Mapfre, Instituto de Cultura, Madrid, in collaboration with La Fábrica, Madrid

Fundación Mapfre  is presenting a retrospective of the American photographer Imogen Cunningham (Portland, Oregon, 1883–San Francisco, 1976). Over the course of her lengthy career Cunningham was a pioneer of modern photography and was widely recognised for the consistently high quality and innovative nature of her work. Organised in collaboration with La Fábrica, Madrid, this exhibition will be the most comprehensive survey of the artist to be seen in Europe in the last twenty years.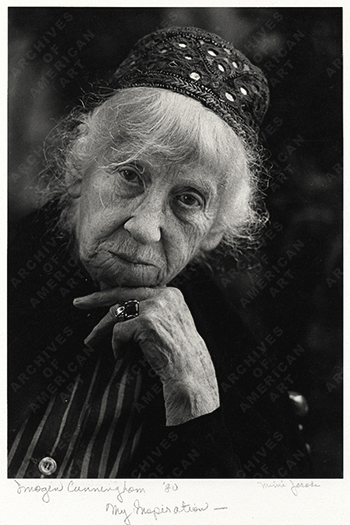 Featuring two hundred photographs, including previously unexhibited or rarely seen images, the present exhibition offers a fresh consideration of Cunningham's work. It covers the seven decades of her long career, from her earliest Pictorialist images and her innovative abstract compositions of plants and flowers to her intimate nudes and her iconic portraits of artists, dancers and actors taken for Vanity Fair magazine. The prints on display are almost all from her estate, the Imogen Cunningham Trust, which has generously contributed to this project in the form of more than one hundred loans. Among other museums and institutions lending works are the Seattle Art Museum and the George Eastman House, Rochester.

At an early age Cunningham decided to become a photographer and to work outside her home, both unusual options for a woman of her generation. Known for her versatile approach to her subject matter and for her ability to find beauty in everyday things, Cunningham photographed life around her: her family, nature, still lifes, street scenes and nudes. Until her death aged ninety-three she tirelessly continued with her photographic experiments and exercised her profession of portrait photographer.

Cunningham was born in Portland, Oregon, where she learned to develop her photographs in a woodshed that her father converted into a darkroom. She gained a degree in chemistry and received a grant to study in Dresden, which encouraged her interest in experimentation and the development of her own style. After an initial phase influenced by Gertrude Käsebier's Pictorialism, Cunningham moved closer to "New Objectivity" principles when she became a founder member in 1932 of the f/64 group along with Ansel Adams and Edward Weston.
By this date Cunningham had already enjoyed international recognition when she participated in the now legendary exhibition Film und Foto, held in Stuttgart in 1929. A sensual gaze prevailed in the images of plant forms and nudes that she showed at that event.

By now a highly accomplished portrait photographer, Cunningham photographed artists, dancers, writers and musicians, including leading intellectuals, artists and performers of the 20th century such as the photographers Alfred Stieglitz, August Sander and Lisette Model, the dancer and choreographer Martha Graham, the actor Cary Grant and the painter Frida Kahlo.

The exhibition will be shown at the Kulturhuset in Stockholm from May to September 2013.

FUNDACIÓN MAPFRE

Avenida General Perón
4028020 Madrid

T +34 91 5811628
www.exposicionesmapfrearte.com
www.fundacionmapfre.com

Free entrance
Hours: Mon, 2–9pm; Tue–Sat 10–9pm;
Sun & bank holidays 12–8pm
Image Credits:
1. Stan, 1959; Imogen Cunningham Trust, Lopez Iseland, Washington
2. Imogen Cunningham, ca. 1972; Creator: Mimi Jacobs (1911-1999), photographer, inscribed and signed by Mimi Jacobs