KATINKA BOCK, MESONYA/
Siobhan Davies Dance Presents First Uk Exhibition By
Katinka Bock, Mesonya/
Part of the Traces Commissions Programme
 
30 Sep – 22 Oct 2017
Siobhan Davies Studios
 
Mesonya/ is sculptor Katinka Bock's exhibition of new work made for Siobhan Davies Studios. This is the first of three visual artists' commissions taking places in the Studios as part of the Traces Commissions programme. For her first solo presentation in the UK, Bock creates an installation in the extraordinary Roof Studio that responds to and emphasises the space's constantly changing use.
 
The Traces Commissions launches a new approach for Siobhan Davies Dance, giving international visual artists an opportunity to make new work resulting from an extended encounter with choreographic practices. The artists invited for the residencies are Katinka Bock, Bernardo Ortiz (Columbia) and Webb-Ellis (UK). All three artists will spend time getting to know the building and the artists and practices that occupy it, leading to the creation of a new body of work.
 
Bock's installation responds to the constantly changing uses of the Roof Studio. During exhibition hours, it will fully occupy the space, creating a landscape of forms incorporating ceramic with other common construction materials that will extend to the outside of the building and into the adjacent primary school. While the Studio is in use for dance, the work will recede to its edges. Bock talks of her sculptures as trying to capture a point in her making process when everything is in flux: 'when a shape is gone, when the moment is not contained anymore, when things are shifting, and losing structure.' As such, they echo the movement practices that are constantly in formation within the space.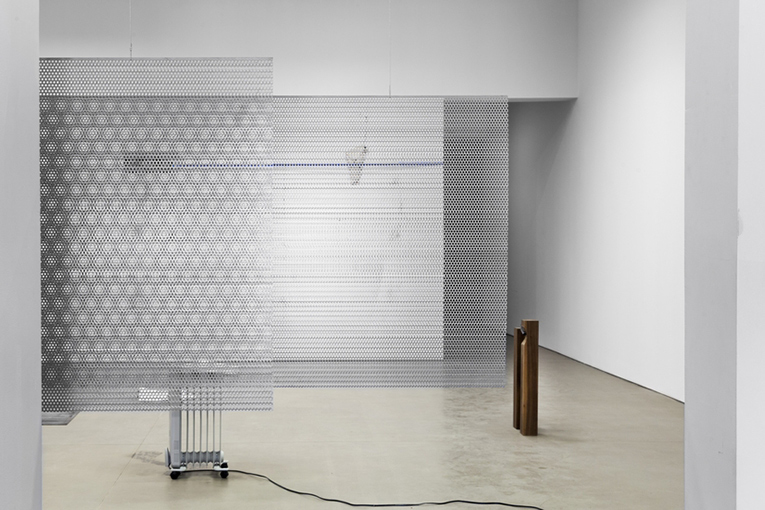 Works in the exhibition will include ceramics created by wrapping everyday objects obtained as part of an ongoing exchange with people in areas surrounding Bock's exhibition locations. The objects disappear in the firing process, leaving their traces in the ceramic shapes, which Bock will insert into the architecture of the Roof Studio. The artist also subtly reveals the studio's occupation by dancers with a sink temporarily installed in the studio for their use, its plumbing snaking through the building and outside to make its activation visible. A work attached to the façade of the building facing the schoolyard, held by strapping running through the Studios building, completes the connection between inside and out.
 
Bock witnessed the making and presentation of Siobhan Davies Dance's recent touring performance installation material / rearranged / to / be. The work's choreography of changing spaces has informed Bock's process. It has led to a dialogue with Andrea Buckley, a dance artist who participated in that project, who will create a performance and workshop to take place inside Bock's exhibition.
 
Siobhan Davies Dance has a long history of exploring the point at which choreography and visual arts meet. Previously Siobhan Davies Studios have hosted a number of exhibitions and much of Siobhan Davies Dance work is presented in the gallery environment. The Traces Commission brings visual artists and dance artists closer together in a creative dialogue, aiming to have a lasting impact on both art forms.
 
Katinka Bock
 Born Germany 1976, lives and works in Paris.
Using clay, natural, and found materials, and more recently bronze, Katinka Bock creates sculptures and installations that explore temporality and space, and that also mine the territories of history and geography. While often dealing with natural processes of alteration, or filming the disappearance of sculptural elements, she creates a continuous movement between outdoor and indoor spaces, the exhibition space and the production site.
Katinka Bock's work investigates material conditions through a range of media: with sculpture as a central point, but also using film, photography and text. Her work deals with questions of language, common space and sharing. She uses a variety of materials from clay, ceramic and textiles to flowing liquids webbing, fruit and other fickle materials.  Articulated together her sculptural work can appear precarious and vulnerable or solid and ready to endure for thousands of years.
 
Each of Bock's installations defines a space and often seems to wrestle against the claustrophobia of the gallery, tending to open doors, windows, walls and holes by which to escape, or to let in rain or air.
 
Siobhan Davies Dance
Founded and led since 1988 by pioneering choreographer Siobhan Davies CBE, Siobhan Davies Dance has evolved over the years from a national & international touring dance company into a ground-breaking, investigative contemporary arts organisation.
Siobhan Davies has been a choreographer and performer since the 1970s. She founded Siobhan Davies Dance in 1988 and has worked closely with collaborating dance artists to ensure that their own artistic enquiry is part of the creative process. By 2002 Davies moved away from the traditional theatre circuit and started making work for gallery spaces and alternative locations.
 
In 2006, the RIBA award-winning Siobhan Davies Studios opened in London realising Davies' long-standing goal of establishing a permanent base for her organisation and for independent dance artists. The Studios are now a vibrant investigative arts space in central London, filled with dance, film, visual art and craft, through a programme of exhibitions, performances, participation projects and commissions by contemporary artists.
 
Davies recent works have been presented at some of the most prestigious art institutions in the UK and Europe including Lenbachhaus (Munich), Whitworth (Manchester), Ashmolean Museum (Oxford), Turner Contemporary (Margate), Tramway and the Gallery of Modern Art (Glasgow), Institute of Contemporary Arts, Barbican and Whitechapel Gallery (London).
Opening Hours
Siobhan Davies Studios
Free Admission
Open Fri – Sun, 12:30pm – 5pm, also open Thurs 5 Oct
 
Events
 An Evening of Traces
Sat 7 Oct, 6pm
£10 / £7 conc + booking fees
Artist Katinka Bock invites other artists, artworks and experts to respond to her exhibition and animate the intersection between sculpture and choreography. Dance artist Andrea Buckley will respond to Bock's work with improvised movement; and Bock will talk about her project.
 
Movement Workshop with Andrea Buckley
Sat 21 Oct, 1.30pm
£15 / £12 conc + booking fees
Join dance artist Andrea Buckley to move among the sculptures created for the Roof Studio by Katinka Bock. Buckley will guide you to experience the sculptures through a series of improvised movement exercises. No prior dance or choreographic experience required to take part.
The Traces Commissions are supported by The Henry Moore Foundation. The work of Katinka Bock will receive additional support from the Goethe-Institut London and Fluxus Art Projects
Contact:
Siobhan Davies Studios
85 St George's Road
London, SE1 6ER, UK
www.siobhandavies.com
T: +44 (0)20 7091 9650
F: +44 (0)20 7091 9669
E: info@siobhandavies.com
Image | Credits:
1) Katinka Bock, courtesy the artist and Galerie Jocelyn Wolff Paris, Meyer Riegger Berlin / Karlsruhe, Greta Meert Brussels