KIMSOOJA: THREAD ROUTES
Guggenheim Bilbao
Curator: Álvaro Rodríguez Fominaya
Date: March 12 to July 5, 2015
From March 12 through July 5, Kimsooja's Thread Routes will make its Spanish premiere at the Guggenheim Museum Bilbao, becoming the fourth installation showcased in the Museum's Film & Video gallery. The gallery opened in 2014 and is dedicated to video art, video installation, and the moving image.
Thread Routes (2010–) is a 16-mm film series produced by multidisciplinary conceptual artist Kimsooja (b. 1957, Daegu, Korea). The artist views this six-chapter project as "...an epic poem that closely contemplates the handiwork of weavers as the seminal structure of all that is labored, built, imagined and witnessed…" The films were shot on three different continents and reveal the artist's fascination with the unfolding of space, the piercing gesture of the weaving hands as the genesis of agriculture, architecture and gender relations. These non-narrative films invite the viewer into a realm that explores the boundaries of poetry and visual anthropology.
A site-specific triangular installation was created by the artist for the Guggenheim Bilbao, and will feature the first three chapters of the six-chapter-long series, filmed in Peru, Europe, and India, respectively. The first film, shot in 2010, explores Peru's exuberant textile culture from the Sacred Valley of the Incas in the Peruvian Andes to the villages of Taquile Island. The second chapter, filmed in 2011, focuses on the handcrafting of bobbin lace in Bruges, Belgium; Lepoglava, Pag and Hvar, Croatia; Brano, Italy; as well as the industrial lace production in Calais, a town in northern France.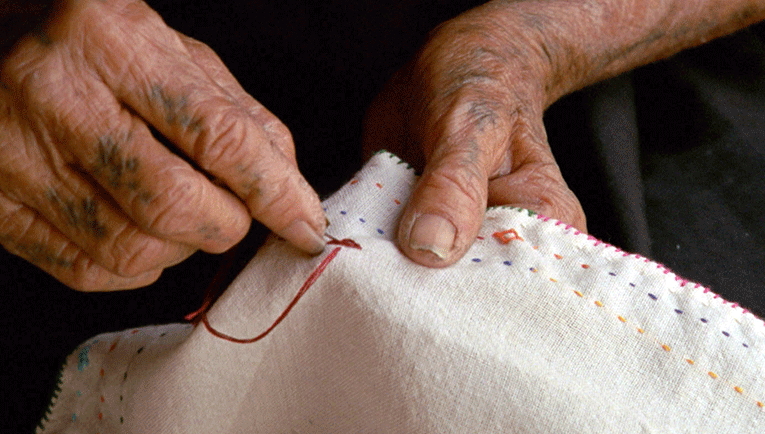 These images of European lacemakers are paralleled to architectural structures such as the Sedlec Ossuary in Kutná Hora, Czech Republic; the Eiffel Tower in Paris; the Milan Cathedral; and the Alhambra in Granada, with its Islamic geometric motifs. The third chapter was filmed in India in 2012 and features traditional dyeing, knitting, embroidery, block printing, and tattooing, intercut with images of archeological sites and the temporary dwellings belonging to nomadic communities in the state of Gujarat; as well as two benchmarks in Indian architecture: the Queen's Stepwell and the Modhera Sun Temple, near the city of Ahmedabad.
Thread Routes reveals how the artist gazes at the world: unfolding visual patterns that intimately tie humans to their land. The series' remaining three chapters will feature the Miao, Tong, and Yi minorities in China and the native tribes of North America and Northern Africa.
Kimsooja for the last 30 years has investigated questions relating to exile and migration, interpersonal relationships with a global network, and women's role in society. She also engages her audience with a reflection on the relation of aesthetics and global politics through a system of beliefs that defies mobility and the act of making. All these themes are present in her multidisciplinary art practice, which includes performance, video, photography, drawing, sculpture, and site-specific installations, that are all linked through their relational use of light and sound.
Guggenheim Bilbao
Abandoibarra et.2
Bilbao 48001
Spain
www.guggenheim-bilbao.es
Image Credits: 
1. Still from Thread Routes, Chapter III
2. Still from Thread Routes, Chapter III