NILBAR GÜRES: WINDOW COMMISSION 2010
Iniva at Rivington Place
Till 5 January 2011
Iniva (Institute of International Visual Arts) announces a new commission by artist Nilbar Güres, for Rivington Place's front window. This is the first solo presentation of the artist's work in the UK following her recent inclusion in the 6th Berlin Biennial and Istanbul Biennial. Güres, who lives and works between Vienna and Istanbul, produces theatrical tableaux of women, moving between performance and the everyday. Using a range of media including photography and film, she subverts representations of femininity and cultural identity in a way that is innovative and contemporary.
'Güres declares war on the prevailing relations between the sexes by playful means, her weapons ranging from sewing needles to boxing gloves. In drawings, collages, performances, videos, and photographs she overstates the norms of the majority society, countering them with hybridized enactments of female identity.' Kolja Reichert, author.
For her new commission at Rivington Place the artist shows a photographic composition in four panels entitled Beekeeper. The central panel features a woman standing in an idyllic orchard setting, her face and body concealed by layers of clothing including a beekeeper's suit and head scarf. In the surrounding panels, these items of clothing have been cast off and hang from the trees nearby. In a playful and suggestive way, this work explores the complex relationship between female identity and social norms, and how this is expressed through clothing and unclothing.
Previous work by Güres includes a series of unusual photographs, Çlrçlr (2010) produced for the 6th Berlin Biennial. She invited a diverse group of women to act out a number of scenarios in front of the camera, in and around a house owned by one of her relatives and which was cited for destruction.
In another series of recent works entitled Uberkannte Sportaten (Unknown Sports), (2009) Güres invited women to choose a sport that would act as a metaphor of how they feel about their lives. This culminated in a performance which became the basis of photographs and a film, featuring women of different ages and backgrounds, dressed in costume and involved in various physical activities.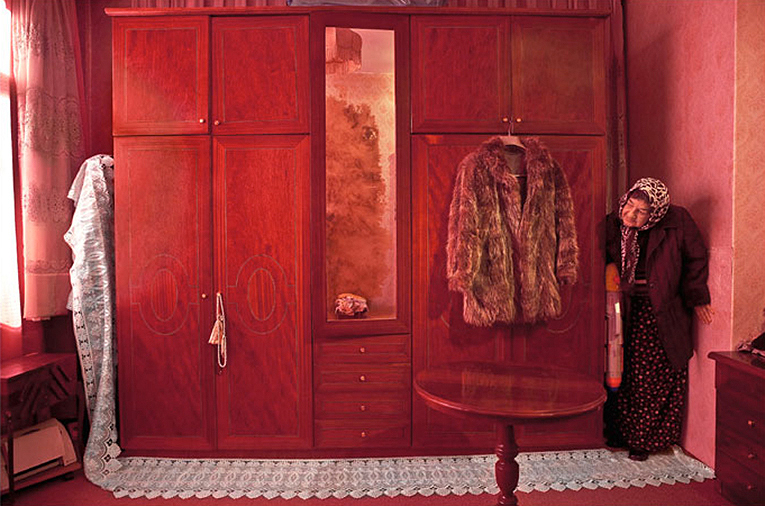 Artists who have created work for Rivington Place's window include Philomena Francis who used piped black treacle in her artwork mo'lasses III to raise questions about identity and the complexities of viewing the black female body: its representation and relationship to colonial history. Yoca Muta's Tale of Two Suns explored folklore and man's changing relationship with nature; she went on to show in Bloomberg New Contemporaries.
Nilbar Güres has an MA degree in painting and graphics from the Academy of Fine Arts Vienna, and a BA in Painting from the Faculty of Arts, MarmaraUniversity, Istanbul. Biennials/festivals: 2007: Participation in the FrauenFilmFestival, the first Turkish women's film festival Topkino, Vienna; 2008: Urban Jealousy the 1st International Roaming Biennial of Tehran; 2009: What Keeps Mankind Alive?, 11th International Istanbul Biennial, curated by WHW, and the Berlin Biennial 2010. Exhibitions 2006: Art auction: human rights, MAK - Museum of Applied Arts, Vienna; 2007: Open Artist Studios, BMSuma Contemporary Arts Center, Istanbul; 2008: World One Minutes, Today Art Museum, Beijing; 2009: Photonic Moments IV, ProArtOrg, Belgrade, Red Thread, curated by WHW, TANAS, Berlin, The Seen and The Hidden: Dis_covering The Veil, Austrian Cultural Forum, New York.
Visitor Information
Nilbar Güres' window commission is on view from Rivington Street. Rivington Place public opening hours: Tuesday, Wednesday, Friday: 11am – 6pm, Late Thursdays: 11am – 9pm (last admission 8.30pm), Saturday: 12noon – 6pm. Café Lati Ri is open all day with wi-fi access and a special offer of mulled cider and mince pie (Until 23 December). Nearest Tubes: Old Street/Liverpool Street/Shoreditch High St. Rivington Place is fully accessible in all public areas. For parking & wheelchair facilities or further information about Rivington Place contact: +44 (0)20 7749 1240 info@rivingtonplace.org, www.rivingtonplace.org/ www.iniva.org
About Iniva
Iniva (Institute of International Visual Arts) engages with new ideas and emerging debates in the contemporary visual arts, reflecting in particular the cultural diversity of contemporary society. We work with artists, curators, creative producers, writers and the public to explore the vitality of visual culture. Iniva programmes at Rivington Place, off-site and virtually.
Iniva at Rivington Place
London EC2A 3BA
Tel: +44 (0)20 7729 9616
Fax: +44 (0)20 7729 9509
iniva@iniva.org
http://www.iniva.org/
Image Credits: 
1. Nilbar Gures, Beekeeper (detail)
2. Nilbar Güreş, Çırçır, Playing with a Water Gun