PETER KOGLER
With Sound Installation by Franz Pomassl
Museum of Contemporary Art Zagreb
Till 20 February 2015
During the last 30 years, Peter Kogler is a very prominent name on the international art scene. He has been recognized as one of the most prominent representatives of middle-generation Austrian artists. Kogler began his artistic journey by adopting the tradition of conceptual and media art, and by developing his explorations at the intersection of different disciplines and media—performance, video, film, painting, computer art, sculpture, and architecture. After several years of research at the beginning of his artistic career, in painting, performance, and experimental film, since 1984 Kogler has used computer technology. 
In this year's exhibition at the Museum of Contemporary Art, we present Peter Kogler with a series of his recent works. The exhibition begins with a monumental curtain, an object we frequently find in Kogler's work, with a printed abstract motif of red entangled lines. The curtain functions as a large painting in elongated format that cannot be encompassed at a glance, which encourages us to closer observation and movement. Moving images are screened to all four sides of the hall, and imperceptible changes in them generate in the viewer a feeling of undefined movement and insecurity. The author of sound as a constituent part of the installation is Franz Pomassl, Austrian artist, theorist, and curator, Peter Kogler's collaborator for several years. Both the sound and the moving images create a filmic atmosphere, so that we become aware of all the influences and historical reminiscences like the ones from Fritz Lang films or the legendary Blade Runner, which Kogler often mentions in his interviews.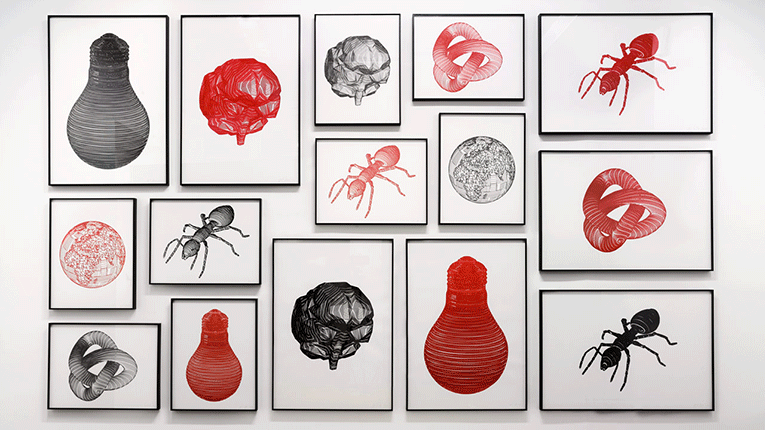 In its general appearance, the next hall reminds us in its overall impression of the atmosphere and works recorded in Kogler's Los Angeles studio, at the time when they were marked by strong influence of American art, especially minimalism and pop-art. Kogler does exactly that—with computer support he develops very precise visual structures that function as super-signs in two- and three-dimensional form. Along with the already known ants, he generates light bulbs, white rats, human brains, tubes…Although his visual scope is adopted from the everyday objects' repertoire, thus achieving clarity and intelligibility, we can by no means say that it is foreseeable. However, that it is very up-to-date and that it best reflects the spirit of today's globalized society, interconnected by technologies and social networks.
The expansion of images-drawings with Kogler's tube motif, black print on white ground, takes place in the last exhibition room. Kogler covers the floor, walls, and the ceiling with wallpaper, enlarging and multiplying his well-known motif in order to transform an ordinary "box-shaped" space into one that in the observer generates the impression of being lost in time and space, as if we were lost in a virtual maze.
Peter Kogler, born in Innsbruck (1959), lives and works in Vienna. He worked as a professor at the Academy of Fine Arts in Vienna from 1993 to 2005. Since 2008 he works at the Academy of Fine Arts in Munich. His work has been presented at international art shows such as the Venice Biennale (1986, 1993, 1995), Documenta IX (1992) and Documenta X (1997) in Kassel. The most important solo exhibitions include Schirn Kunsthalle Frankfurt, Frankfurt am Main (2010); Mudam, Luxembourg (2010); Museu Berardo Coleção, Lisbon (2009); MUMOK, Vienna (2007); Mamco, Geneva (2007); Kunsthaus Bregenz, Bregenz, Austria (2000); Pavilion Secession, Vienna (1995). Of the many works displayed in public areas we single out a subway station at Karlsplatz, Vienna (2012); railway station in Graz, Austria (2013, 2003); Skate Park, Porte d'Italie, Paris (2007); and subway station Fröttmanning, Munich (2005).
Museum of Contemporary Art Zagreb
Av. Dubrovnik 17
Zagreb
Croatia
www.msu.hr
www.kogler.net
Image Credits:
1. Peter Kogler, DIRIMART Gallery, Istanbul, 2011 Foto: Atelier Kogler
2.  Peter Kogler, JGM Gallery, Paris, 2013 Foto: André Morin