THE POND, THE MIRROR, THE KALEIDOSCOPE
School of Visual Arts, New York City
August 20–September 14, 2013
School of Visual Arts presents The Pond, the Mirror, the Kaleidoscope, an exhibition of emerging and established artists who graduated from SVA and are working in the Symbolist tradition. These "neo-Symbolists" make mythological and dreamlike pictures that challenge prevailing assumptions about narrative, subjectivity and figurative painting itself. Their subjects may be environmental (the pond), societal and cultural (the mirror) or a post-apocalyptic, futuristic mash-up (the kaleidoscope).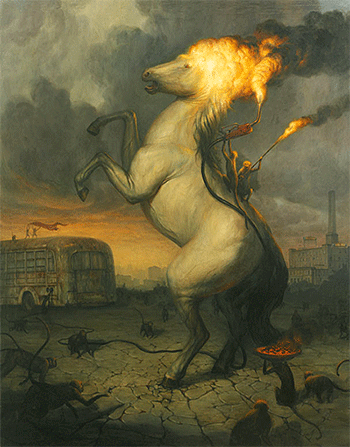 The exhibition is curated by Thomas Woodruff, artist and chair of the BFA Illustration and BFA Cartooning departments, and features work by BFA Illustration alumni as well as graduates of the College's MFA Illustration as Visual Essay Department, which is chaired by Marshall Arisman. "Like the Symbolists, today's neo-Symbolists are arguably eccentric and obsessive; they use low-tech methods to tell new stories to new audiences," says Woodruff. "They make art that is intellectually surprising,brimming with visions of the world as it is—or how it could be.This exhibition is a testamentto those who have chosen to forge new pathways while continuing to speak in a visual language that is clear and articulate." 
More than 30 paintings, drawings and sculptures are included in The Pond, the Mirror, the Kaleidoscope, and they range in topic from autobiographical to fantastical. The participating artists—who have found success in everything from comics to fine art to tattooing—are Jean-Pierre Arboleda, James Bascara, George Boorujy, Michael Combs, TM Davy, Steve Ellis, Scott Harrison, James Jean, Mark Lang, Sakura Maku, Alison Moritsugu, Timothy Okamura, Mu Pan, Matt Panuska, Rachel Pontious, Lane Twitchell, Martin Wittfooth and Jason Bard Yarmosky. 
The Pond, the Mirror, the Kaleidoscope will be on view from August 20 through September 14 at 601 West 26th Street, 15th floor, in New York City. The gallery is open Monday through Saturday, 10am to 6pm, and closed on Sundays and public holidays. Admission is free and the gallery is accessible by wheelchair. For more information, call 212 592 2145. 
School of Visual Arts has been a leader in the education of artists, designers and creative professionals for more than six decades. With a faculty of distinguished working professionals, a dynamic curriculum and an emphasis on critical thinking, SVA is a catalyst for innovation and social responsibility. Comprised of more than 6,000 students at its Manhattan campus and 35,000 alumni in 100 countries, SVA also represents one of the most influential artistic communities in the world. For information about the College's 32 undergraduate and graduate degree programs, visit www.sva.edu. 
School of Visual Arts
601 West 26th Street, 15th floor
New York City
www.sva.edu
Hours: Monday–Saturday 10am–6pm, 
closed on Sundays and public holidays
Image Credits:
1. Jean-Pierre Arboleda, Confrontacion, color pencil, graphite acrylic on paper 10.5 x 7 inches
2. Martin Wittfooth, The Sacrifice, 2011. Oil on canvas. Courtesy the artist.