RACHEL MACLEAN : WOT U :-) ABOUT?
October 29, 2016–January 8, 2017
HOME Manchester
Rachel Maclean Wot u :-) about? October 29, 2016–January 8, 2017 Preview: October 28, 6pm HOME First Street 2 Tony Wilson Place Manchester M15 4FN United Kingdom Hours: Tuesday–Saturday 12–8pm, Sunday 12–6pm T +44 161 200 1500 HOME Manchester announces the major new exhibition of all new work by Rachel Maclean. Curated by Bren O'Callaghan and Sarah Perks, Wot u :-) about? plays out across film, sculpture and print, in the Scottish artist's largest solo exhibition to date.
Maclean's highly distinctive work uses fairytale to examine the contentious boundary between child and adult, touching upon ideas of commodified happiness and the politics of fear, rendering dark and unsettling narratives in the supersaturated, candy-coloured aesthetic of children's television. Wot u :-) about? expands upon themes explored in Maclean's previous works including Over The Rainbow (2013) and Feed Me (2015). The artist uses neologisms, text speak, market research copy and gobbledegook to establish a barely comprehensible, otherworldly communication system.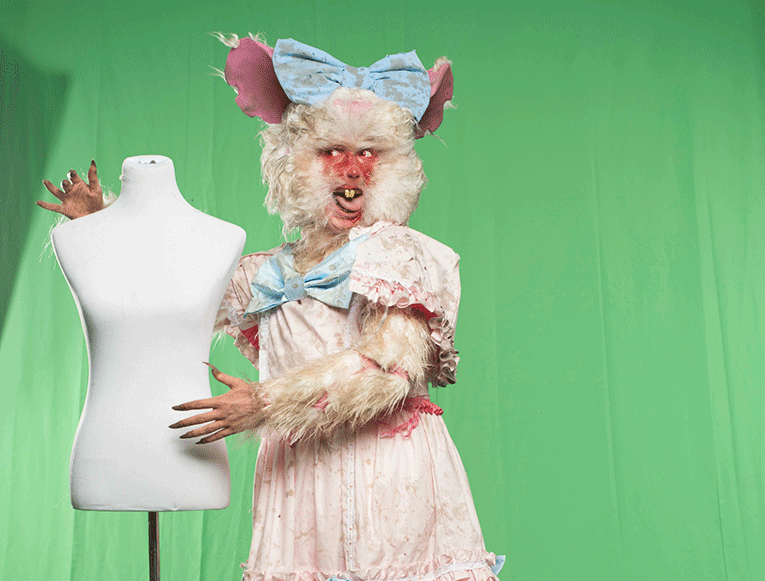 "I'm interested in experimenting with how these films will function within the gallery space as large-scale projections, at times syncing and seeming to communicate with one another, and at other times branching off and seeming to develop their own self-enclosed narrative," says Maclean.
Wot u :-) about? includes new sculpture by Maclean, an array of larger-than-life figures, directly relating to and overlapping with the props, costumes and the aesthetic within the films. Resembling hybrids of bored commuters, cutesy kids' TV monsters and sickeningly engorged, over-consumptive organs, the figures also function as inanimate viewers for a series of infographic videos, displaying spreadsheets, bar graphs and market research surveys to their unblinking users. Riffing upon the commodification of youth and the pap-rhetoric of happiness marketing, they take the form of part playground-equipment, part-Pietà-like statuary, that upon closer inspection are being eaten alive by swarms of razor-toothed dolls.
Maclean's sculptural installations represent a fresh approach for the artist as she steps through the looking glass, to club, capture and drag back large-scale physical artefacts from her subversive CGI vistas.
Bren O'Callaghan commented: "I took out an Own Art loan to buy one of Rachel's prints from Edinburgh Printmakers a few years back and remember thinking I'd love to work with the artist in any capacity—her output is akin to a burst sewer pipe in a rainbow factory; horrifying, beautiful, a tongue-lolling double scream-and-gulp. To be co-curating this exhibition of all new work here at HOME is literally a dream come true—albeit one of those dreams where the last image beneath your eyelids is of a small child advancing with a concealed weapon."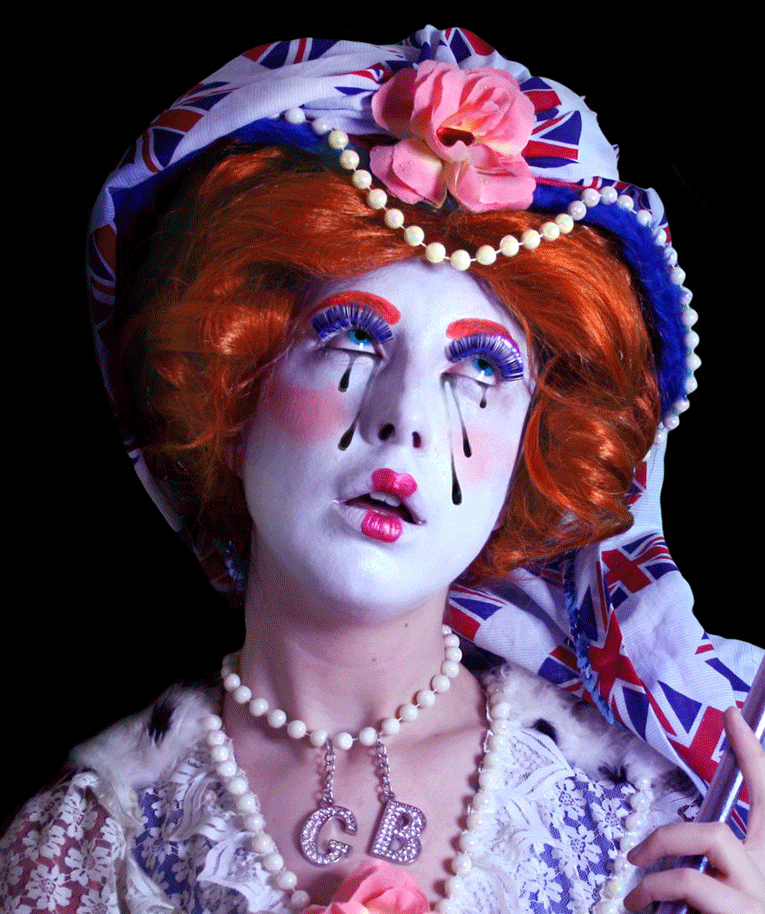 Co-curator Sarah Perks comments, "Rachel Maclean is absolutely at the forefront of our main specialism of artist film, and one of the most exciting UK artists working in this field right now. However—like us—she can see far beyond the screen, incorporating sculpture and other formats in her work and totally having something to say about the state of the world we are in right now. We're also super happy that this is the both the seventh main gallery exhibition and seventh book we have produced since our opening last year!"
There is also an accompanying film season, I'm Too Happy, selected by Rachel Maclean and curator Bren O'Callaghan, which expands upon themes within the artist's rainbow-dipped but unsettling work that addresses the exploitation of childhood, happiness and innocence, including Maclean's Feed Me, The Company of Wolves directed by Neil Jordan and Alice, a surreal adaptation of Alice In Wonderland, from acclaimed Czech animator Jan Švankmajer.
Wot u :-) about? is also accompanied by a publication of the same name, the first comprehensive monograph on Rachel's work, heavily illustrated with film stills, drawings and digital compositions, commissioned by HOME Publications with Hayward Publishing. It includes essays by author, sociologist and political economist William Davies (The Happiness Industry: how the government and big business sold us well-being), and Melissa Gronlund, author and co-editor of Afterall journal, with contributions by co-curators Bren O'Callaghan and Sarah Perks. Designed by Darren Wall, available in the HOME bookshop.
HOME
First Street
2 Tony Wilson Place
Manchester M15 4FN
United Kingdom
Hours: Tuesday–Saturday 12–8pm, Sunday 12–6pm
T +44 161 200 1500
Images:
1.Rachel Maclean, We Want Data!; part of Wot u :-) about?, 2016.
2. Rachel Maclean, Rats; part of Wot u :-) about?, 2016.
3. Rachel maclean, I Heart Scotland; part of Wot u :-) about?, 2016.