GOODNIGHT MISTER TOM
In association with The Children's Touring Partnership
Based on a book by Michelle Magorian
Adaptation by David Wood
Directed by Angus Jackson
With Oliver Ford Davies
A powerful and uplifting children's story is brought to the stage in a brand new adaptation, thanks to a partnership forged to develop high quality theatrical work for young people. Michelle Magorian's compelling Goodnight Mister Tom is adapted by writer David Wood, described by The Times as the UK's 'national children's dramatist', and directed by Chichester Associate Angus Jackson.
Set during the dark and dangerous build-up to World War II, Goodnight Mister Tom follows a sad young boy, William Beech, who is evacuated to the countryside. He is billeted with the curmudgeonly recluse Tom Oakley and the two characters build a remarkable and moving friendship.  This unlikely bond transforms them both, but their newly-found happiness is shattered when Will is summoned back to London by his mother.
 
Goodnight Mister Tom, first published in the UK in 1981, is an enduring classic for both children and adults alike and has sold in excess of 1.2 million copies in the UK alone. As well as being a world-wide favourite, the BAFTA award-winning TV film of the book starring John Thaw attracted 14 million viewers. The book has won many awards including The Guardian Children's Fiction Prize in 1981, was commended for the Carnegie Medal and in 2005 was voted amongst the top 100 books in the BBC's Big Read.
Writer Michelle Magorian was born in Hampshire. Her ambition was always to go on the stage and in adulthood she had a professional acting career, spending a few years touring all over the country. Goodnight Mister Tom was inspired by her mother's tales about her time as a nurse in the Second World War. Magorian's latest novel, Just Henry, won the Costa Award for children's fiction in 2008.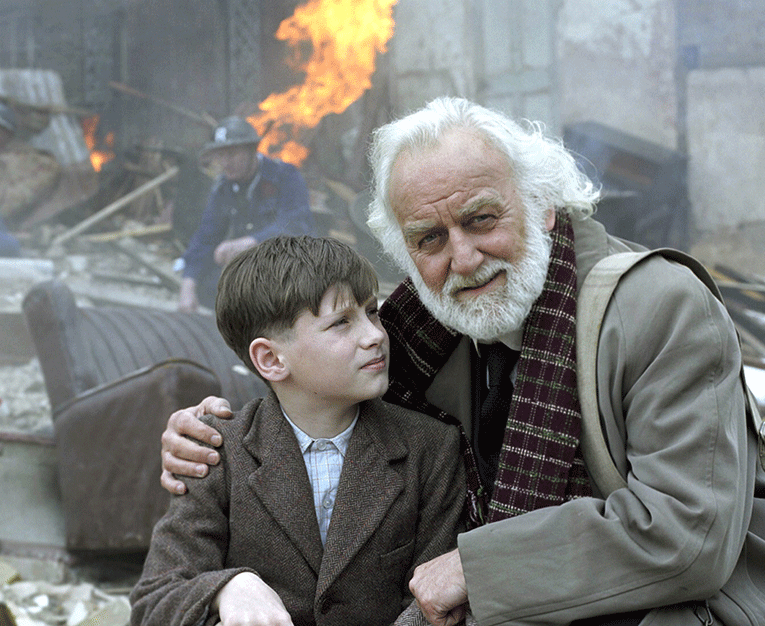 Adaptor David Wood has written over 70 plays for children, which have been performed all over the world. These include adaptations of Roald Dahl's classic books including The BFG, The Witches, The Twits, James and the Giant Peach, Danny the Champion Of the World, Fantastic Mr Fox and George's Marvellous Medicine, as well as an award-winning adaptation of Philippa Pearce's Tom's Midnight Garden. He has also written for film and TV and is the author of various children's books co-created with Richard Fowler.
Oliver Ford Davies plays the title role of Tom Oakley. He is a much respected and admired stage actor, having played many of theatre's leading and key supporting roles. He was recently seen on stage and on TV as Polonius in the RSC's production of Hamlet - for which he won an Olivier Award nomination - alongside David Tennant in the title role. Other credits include the title role in Jonathan Kent's production of King Lear at the Almeida Theatre. He also featured in Racing Demon, Murmuring Judges and Absence of War, David Hare's state of the nation trilogy directed by Sir Richard Eyre at the National Theatre. Film audiences, however, will know Ford Davies best for his role as Sio Bibble in the three Star Wars prequels: The Phantom Menace, Attack of the Clones and Revenge of the Sith.
Angus Jackson is Associate Director at Chichester Festival Theatre where he has directed Bingo, Wallenstein, Funny Girl, The Waltz of the Toreadors, The Father and Carousel. Other theatre includes The Power of Yes, Fix Up, Elmina's Kitchen and The 24 Hour Plays. Screen credits include BBC4 Elmina's Kitchen for which he received a BAFTA nomination.
This production of Goodnight Mister Tom - which marks the 30th anniversary of the novel – is a Chichester Festival Theatre production, staged in association with the newly created Children's Touring Partnership.
The Children's Touring Partnership is led by independent producer Fiery Angel, Chichester Festival Theatre and a consortium of major regional theatres, with support from Arts Council England. This new initiative seeks to tour imaginative and bold theatre of the highest quality, with a particular emphasis on work for children aged eight years and above. The Partnership will link theatre to education through a variety of events, workshops and talks.
Fiery Angel's Edward Snape commented on behalf of the Children's Touring Partnership: "It is exciting to see so much support for this unique venture. Whilst there has been an enormous amount of younger work available for children on stage especially for the pre-school audiences, this is the first national tour where the Arts Council, regional theatres and producers have all come together to work as a consortium in filling a much needed gap for older audiences. This is a challenging piece of drama and especially when one considers that our two leading actors will be separated in age by at least sixty years."
Chichester Festival Theatre's Artistic Director, Jonathan Church, said: "We welcome the opportunity to be part of this great new initiative offering high quality theatre for young people. We are delighted to commission this new production directed by Chichester Associate Angus Jackson, and look forward to opening Goodnight Mister Tom at Chichester before it embarks on a national tour."
Sponsor(s) : Goodnight Mister Tom is sponsored by Clydesdale Bank.
Goodnight Mister Tom is at Chichester Festival Theatre from 2 – 5 February, Wednesday – Saturday eves 7.30pm, Thursday and Saturday matinees 2.00pm. Limited availability.Tickets £10 - £30, concessions available. Children Saver Ticket – half price tickets for under 16s on top three prices, Wednesday – Thursday evenings and matinees. To book online visit www.cft.org.uk or contact the Box Office on 01243 781312.
Cast
Ginnie/Nurse: Louise Collins
Sammy/Puppeteer: Laura Cubitt
George/Policeman: Kamran Darabi Ford
Tom Oakley: Oliver Ford Davies
Mrs Fletcher/Glad/Social Worker: Joanne Howarth
Dr Little/Mrs Miller: Anne Kavanagh
Mrs Annie Hartridge/Mrs Beech: Aoife McMahon
Carrie/Sister: Freya Parker
Billeting Officer/Miss Thorne: Georgina Sutton
Mr Miller/ARP Warden: Alan Vicary
Charlie Ruddles/David Hartridge
Vicar/Ticket Collector/Mr Stelton: Jonathan Warde
Understudy: Emma Drysdale
Creative Team
Writer: Michelle Magorian
Adaptor: David Wood
Director: Angus Jackson
Designer: Robert Innes Hopkins
Lighting Designer: Tim Mitchell
Sound Designer: Gregory Clark
Composition: John Tams & Matthew Scott
Puppets & Puppetry: Toby Olié
Chichester Festival Theatre
Oaklands Park
Chichester
West Sussex
PO19 6AP
 
Box Office Tel. Number : 01243 781312
Website: http://www.cft.org.uk
 
Ticket Price: Tickets: £10 - £30, concessions available.