DAHN VO: CHICXULUB
White Cube Bermondsey
11th of September – 2nd November 2020
REVIEWED BY LILY TONKIN WELLS
Danh Vo's immersive exhibition, Chicxulub, leaves the viewer in with an ambiguous impact, a sensation reflective of the show's title. Named after a crater caused by an asteroid impact believed to have caused global mass extinction and climate disruption, viewers are immersed in a space which speaks to equally curious global forces; money and religion. It is meant to evoke a Garden of Eden long after the coming of knowledge, and a nostalgia for Creation itself.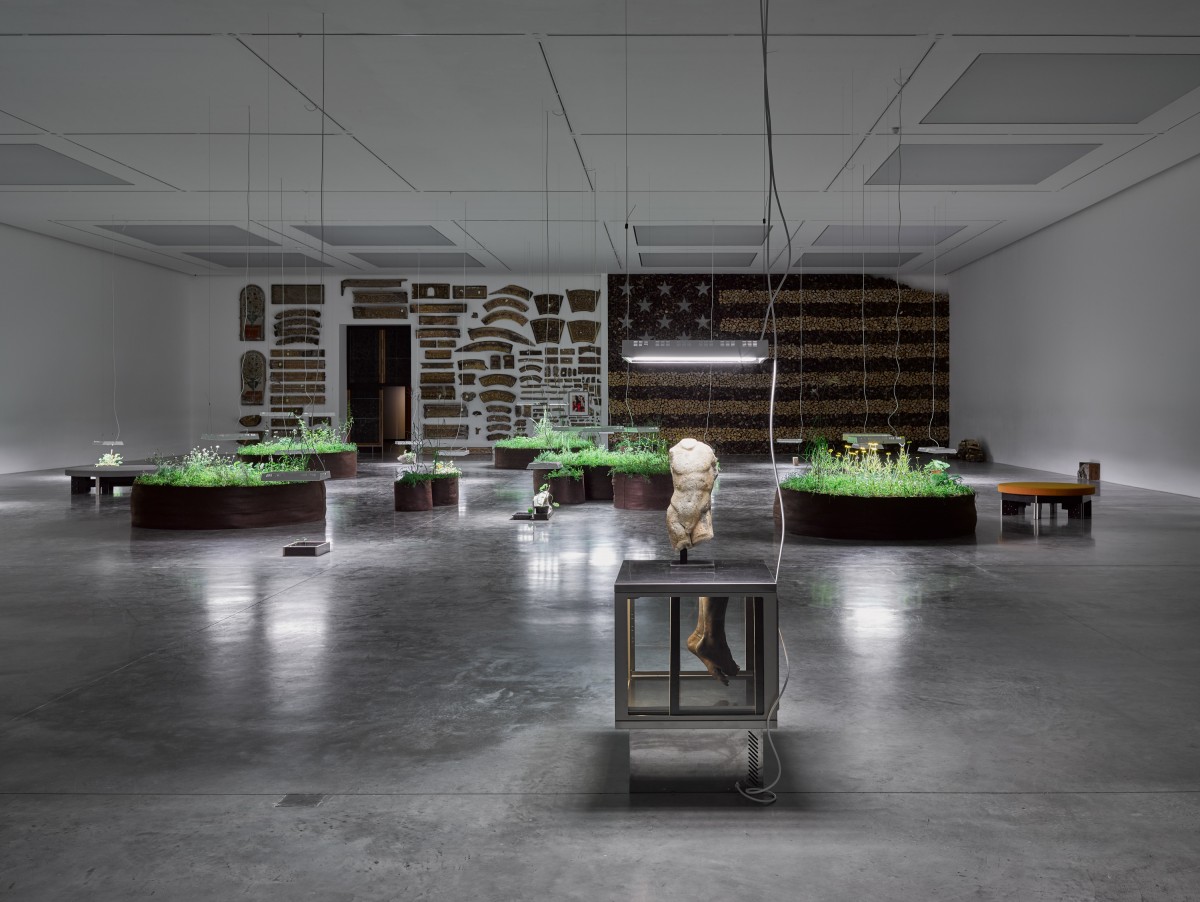 I am engulfed by a stifling heat entering the space. Gallery assistants dutifully attend to wood burners installed across the rooms feeding the flames. A warm flickering glow is cast onto the white walls and fills the rooms with a crackling sound, scent and warmth more reminiscent of a country farmhouse than an inner-city art gallery.
There is a surreal dissonance between the wood burners and their surroundings. Large panels of origami lighting divide the space while IKEA-style MDF furniture stands before the stoves. The viewers' murmuring mingles with the subdued roar of the flames yet no one sits. It's too hot to loiter and the convergence of styles is somewhat unsettling. In the near gallery space, an entire oak tree leans upon struts of processed timber, the traces of its installation marking the otherwise spotless white walls.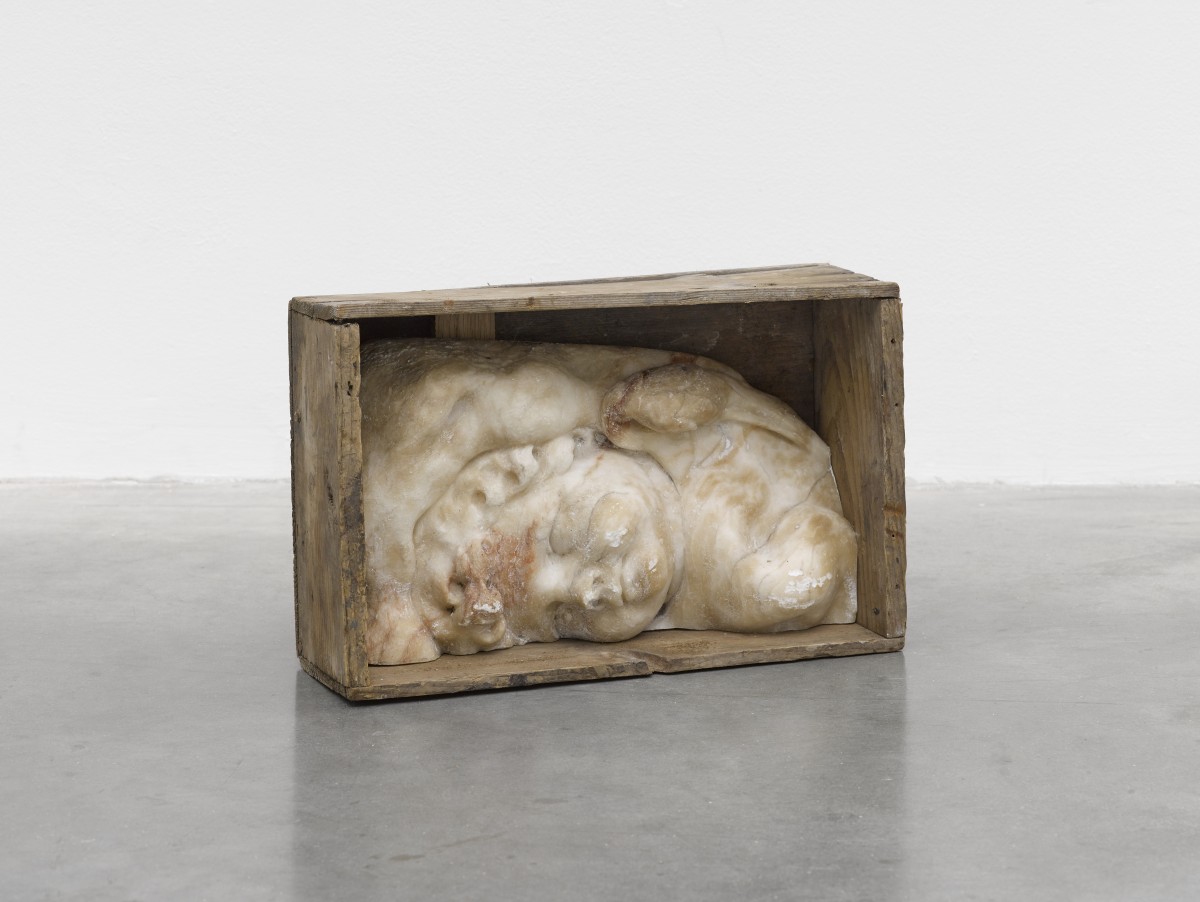 We are presented with reflections of human consumption at various scales and stages of processing. A cigarette packet balances on a cardboard box while other boxes containing seasoned timber have been painted with Coca Cola logos in gold leaf. This is the commodification of natural matter into a product for consumption.
The artist presents a relationship to natural matter governed by multinational forces and a global economy. And yet reflexively, we understand the dependency of these forces on the 'organic' for their existence, and the sustained fierce heat. Another gallery space reveals an enormous wall of seasoned timber in alternating colours, meticulously placed to create the American flag complete with stars in welded steel (Untitled, 2020). This is likely the 'source' of energy for the wood burners as the flag has diminished from top-down and one of the stars has tumbled from the height. Illustrated is an ironic paradigm, that of America's degradation in both reputation and in raw physical resources, as a result of its economic progression; it consumes itself.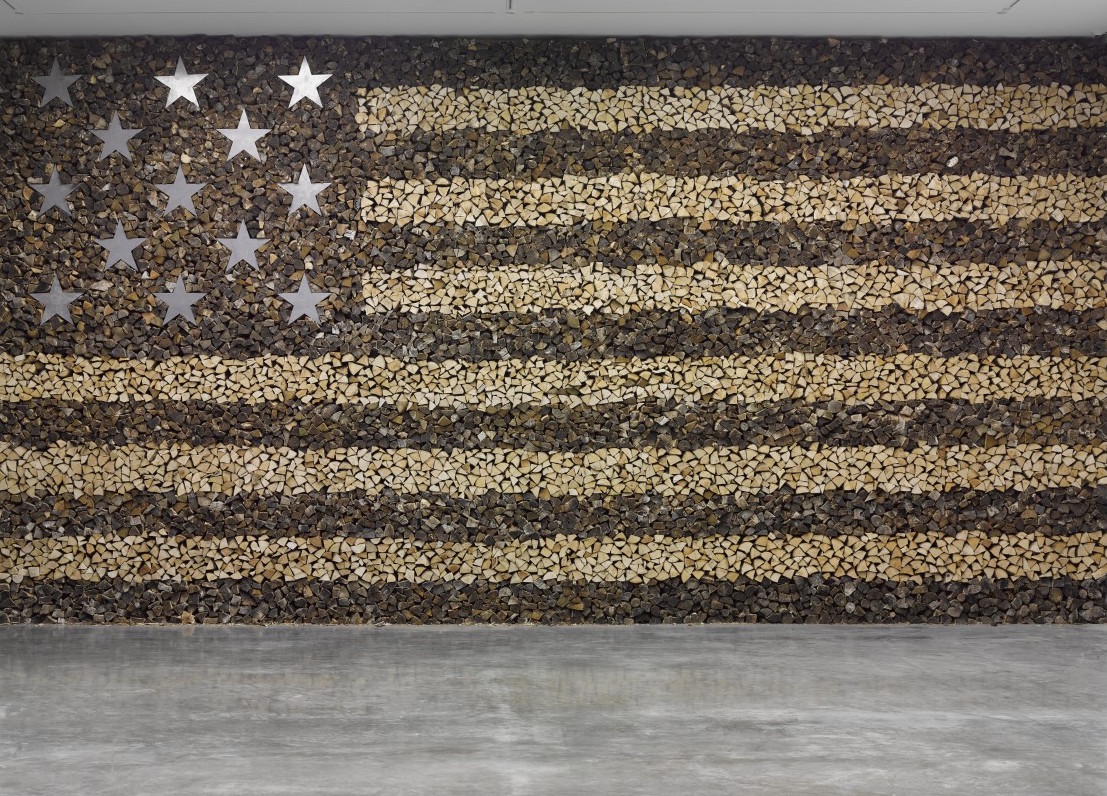 Installed beside the flag are stained glass windows and fragments of decorative church door awnings. They are displayed orderly as if in a museum, a tribute perhaps to a form of spirituality more alive in history than lived realities. Ideology spreads globally, and the artist creates a parallel between the globalization of contemporary brands with that of Christianity. Religious symbols in wood and marble become disposable and commodified, being collaged with fragments of processed wood and plastic packaging. The same tacky furniture also litters this space, yet again, no one seems comfortable enough to sit.
Alongside large garden centre-style planters, these strange assemblages form vessels to harbour the growth of plants. They are nourished by artificial lights hanging from the ceiling. Look closely and you'll see webs of spider silk and white cabbage butterflies fluttering in the sterile white light, micro-ecosystems serenely unaware of their surreal hybridity. They evoke the horticultural tinkering that took place in the aftermath of world conquest, to form new genotype. The exhibition was developed by the artist from his farm in Guldenhof, Eastern Germany. Its rural beginnings infiltrate White Cube Bermondsey, turning it into a space difficult to define; a farm cottage combined with a biology lab with notes of an interior design showroom and fragments from a church ruin.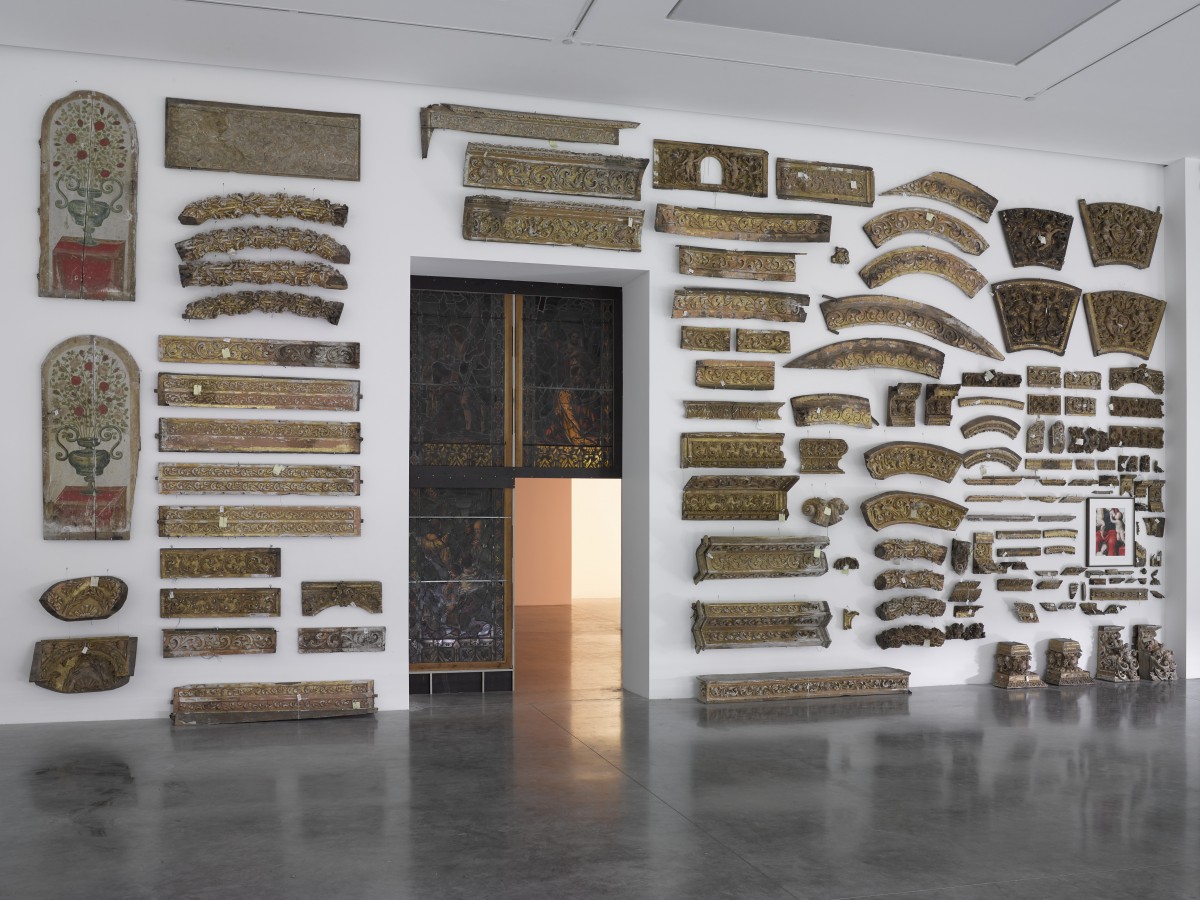 Nothing is exuberant here, yet equally nothing is dead. It represents neither past, present nor future, yet as in dystopian fiction, every element of this exhibition has been taken from reality. This is an idea of interconnectedness exempt from romantic ideals; working more speculatively to create configurations which seek to make sense of the lineages of processes, authorities and forces humans have followed thus far, those we currently exist by and perhaps those to come. A future of mass destruction and consumption, equal to that of the Chicxulub asteroid?  Or perhaps this installation presents a more hopeful future, one capable of sustaining life.
White Cube Bermondsey
144 – 152 Bermondsey Street London SE1 3TQ
whitecube.com
Free entry. Advance booking is required.
The gallery is operating with reduced opening hours, and timed visiting slots to enable easy social distancing and avoid queues. 
IMAGE CREDITS:
1.Beauty Queen, Danh Vo, © White Cube 
2. Exhibition View, Danh Vo, © White Cube
3. Untitled, Danh Vo, © White Cube
4. Untitled, Danh Vo, © White Cube