PETER BONDENHAM: SEA VESSEL
Lily Tonkin Wells in conversation with artist and potter Peter Bodenham
in the run-up to his exhibition 'Sea Vessel' at Oriel Myrddin Gallery,
Carmarthen from the 25th of August to the 24th of October.
Walking from Poppit Sands lifeboat station to the left, more pebbled side of the beach, I followed Peter on a walk he completes regularly. I was doing a stint as his assistant. Combing this 25-metre strip of coastline, we collected clay deposited about 18,000 years ago during the last ice age. But this was also an environmental mission—we stopped often to pick up a menagerie of plastic flotsam deposited by the tides in the last few days. By the end of the afternoon, we'd filled five Tupperware containers with clay of various colours, and a sack with old fishing nets, plastic bottles and discoloured food packets.
Motivated by Attenborough's Blue Planet 2 documentaries in 2018, which brought public attention to the estimated 150 million tonnes of plastic waste drifting in the world's oceans, Peter started to beach-clean regularly, and document his findings. Tangentially, he began using the local clays and infusing glazes with local seaweeds, and then started casting the found plastic objects in the clay, resulting in a research project intimately connected to the West Wales coastline.
I assisted Peter in preparation of the exhibition, making clay based paints which would later be brushed onto the sculptures. We created a gradient palette of earthy ambers and slate greys, and a dusky red, using iron oxide dripping pearlescent from the cliffs and onto the rocks below. The paints are also displayed in neat rectangles on the gallery wall alongside a line drawing of the coastline and river mouth.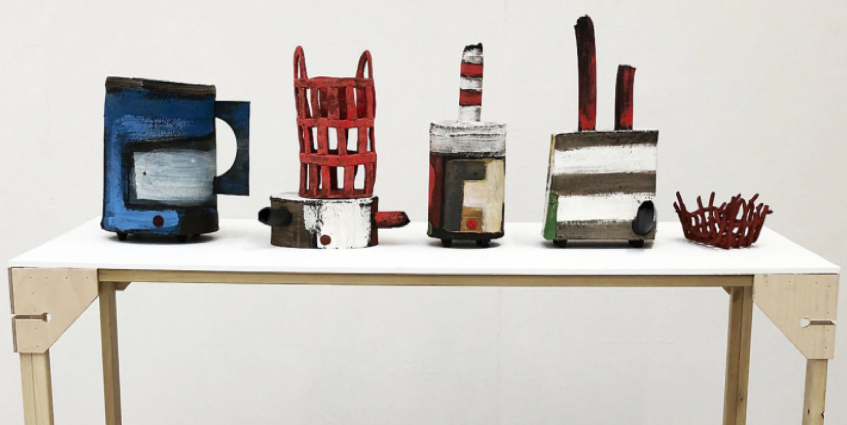 The clay pigments were used on the work, marked on in Peter's confident signature brush strokes like passing salt stains at low tides. Varying in size and shape, Peter's Sea Vessels appear like lined up tankers or abandoned toys, rustic in form and nautical in colour, they echo the weathering of the original plastic flotsam.
Peter works as a Senior Lecturer of Fine Art in Bath Spa University, alongside his independent practice and pottery business in St Dogmaels. His work has won multiple National Eisteddfods in Wales, and included in exhibitions in Cardiff, London and Munich. He earned his MA in Fine Art & Critical Studies from Cardiff Metropolitan after a BA in ceramics at Camberwell.
His background is in both concept and craft, making "functional things... using fine art methodologies." By using organic matter to replicate the inorganic, his work blurs the distinctions between sculptural forms and functional objects. He draws attention to the destructive effect the inorganic has on the natural environment, and on ourselves, as microplastics begin to enter the human food chain.
Walking, swimming, gathering, documenting and studying are common tools used by Peter in his practice: through these he explores the transience of a body within an outdoor space. Sea Vessel presents a series of his works focusing on the area surrounding his home and pottery, creating ecological statements that resonate beyond Wales and the UK. His use of traditional craft techniques and these freely sourced materials act as a vessel through which to discuss our relationship with nature and "to challenge ideas around single-use plastic."
Accompanying the exhibition is a short film montage by photographer and video-artist Nigel Goldsmith, displaying the original plastic objects collected from the coast. Originally from West Wales, Nigel's practice shares an interest in ecological awareness creating telling commentaries on our wasteful consumer culture.
Working with the Peter, I gained an insight into his reverence for the land. Without cutting into the earth, we collected what was simply exposed to us; offerings from the cliff edge which had slumped somewhat under recent rainfall. Our approach was more in conversation with the coast rather than in taking the clay as a resource. Similarly, no digging was necessary in filling a sack full of wrappers and bottle caps splayed across the rocks and lodged between the pebbles. The plastic already exits as a product from an exploitative process of extraction; raw matter from the earth converted into polymers, while Peter's 'gatherer' principle contrasts sharply with that mode of creation.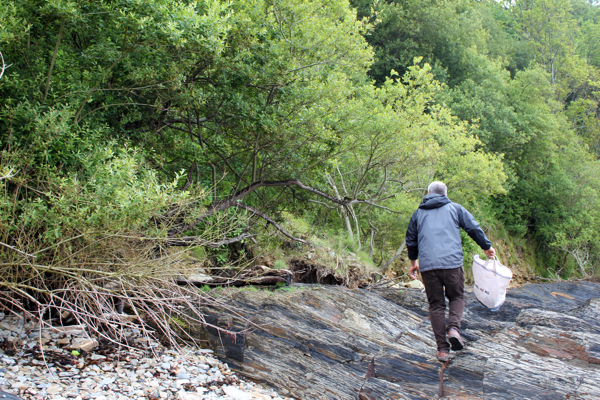 Without being explicit in message, Sea Vessel is poetic activism, it casts a light on malignant man-made materials that will exist far beyond our temporalities.
"I wanted the exhibition to nudge people. I find some of those crappy bits of plastic very beautiful. They've been scraped and deformed. I didn't want to show many of the plastic objects because, hopefully, people will engage with the texture and form of the things I've made. But then they'll also see those images. Then maybe when they're going shopping they'll reduce plastic consumption. So, I think that's sort of very much an intention."
His approach to global plastic pollution, though not entirely scientific is evocative of biodiversity measurements in conservation, illustrative of a practice informed by multiple disciplines:
"One of the great things about being an artist/maker is we don't have to adhere to any of those laws or methodologies which science does, whereas we can be playful with that… we haven't got any rules, we make up the rules. But hopefully, within that, it reveals to people something different which those science disciplines don't."
The decision to limit his parameters to a 25 metre strip of coastline, has allowed him to become more perceptive to gradual changes within the landscape which may have otherwise evaded him. His work thus conveys the conjunctures between geological and human time; humbling in effect, considering our brief lifespans against the formation of natural landmasses spanning millions of years. 
"In a sense, we're like this tiny grain of sand in geological time. Things don't seem to change much to us… In the last 18 months, there was this massive chunk I'd noticed had fallen away, and I noticed it because it had this vein of quartz going through it, and then water had gotten in so that it had split it and broken off," he enthuses. "By shifting your perception you can re-engage with your locality with fresh eyes."  
I ask the Peterwhether this series of work particularly resonates with the corona pandemic, and the international lock-down. "It is coincidental rather than intentional," he asserts, but concedes it provided him with a "focused period of making and contemplation," rather than a direct response to the crisis. He adds that like many ceramicists, using local clay has always been of interest to him as a "kind of challenge to globalisation".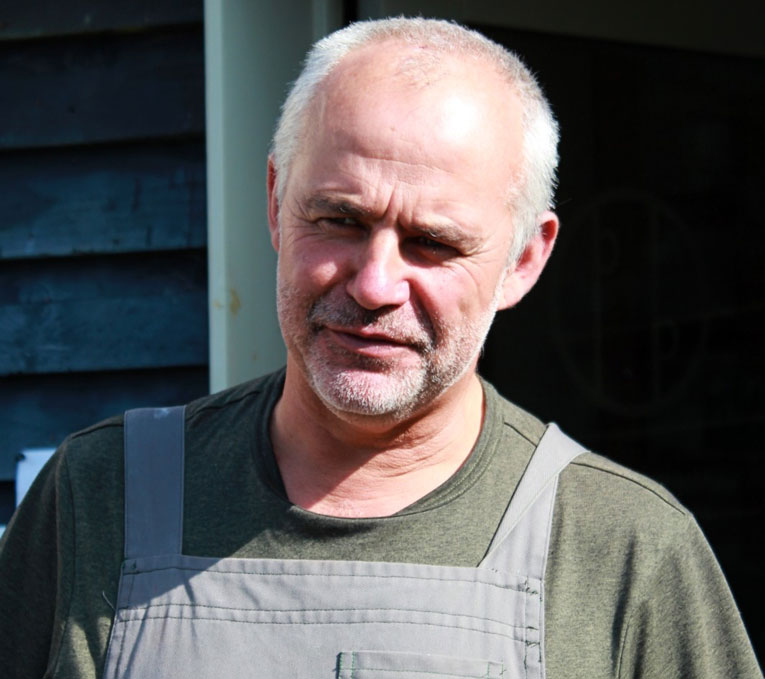 On a personal level, however, Peter adopts a sanguine attitude towards the human/nature paradigm, during an epoch noted by scientists as a geological age marked by human activity, the 'Anthropocene':
"I think it's very easy to get consumed by ecological gloom and disaster but I have come to the sort of position that nature will get rid of us first if you don't respect it, it's busy getting rid of us." 
 
For more information regarding the exhibition and gallery venue:
​https://orielmyrddingallery.co.uk/event/peter-bodenham-sea-vessel/
Peter Bondenham's works can be viewed here:
http://www.peterbodenham.co.uk/news/  
https://www.instagram.com/st.dogmaels_pottery/ 
Instagram archiving of Peter's beach-cleans is available to view here:
https://www.instagram.com/neptunesbinbag/
Image credits:
1. 'Sea Vessel' 2020, Courtesy of the artist
2. Peter Bondenham Foraging for clay, 2020, by Lily Tonkin Wells
3. 'Sea Vessel' 2020, Courtesy of the artist
4. Peter Bondenham, by Lily Tonkin Wells